News
»
Go to news main
Karl Winter, Class of '51
Posted by
stephanie rogers
on October 29, 2021 in
News
Karl Winter
Class of '51
The second in three generations of the Winter family, to attend NSAC, passed away this summer, but not before leaving a significant impact on the agricultural industry, around the globe - through his career and volunteer commitments. He also left a great impact on his family.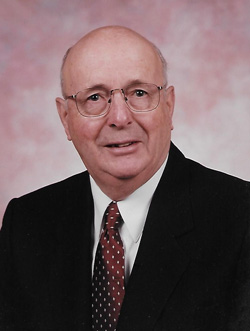 Dr. Karl Winter (Class of '51) was 92 at the time of his passing.
Following in his fathers' footsteps (Thomas, Class of 1922), Karl attended NSAC before continuing his studies at MacDonald College, McGill University and finally, earning his PhD at Ohio State. He spent a fulfilling career as a research scientist at the Charlottetown Research Station, with the federal government, until his retirement.
"He loved his work," said son, Chris (Class of '89). "His career took him around the world as he enjoyed temporary placements in Ireland and Ottawa, as well as Nova Scotia." Karl's research speciality was in the area of animal nutrition, beef and dairy specifically.
"Of all dad's accomplishments, his greatest was being a man of the highest integrity," said Chris. "He had no patience for people who could not keep their word."
Married for 63 years, a father to three and grandfather to four, Karl was most proud of his family.
"In hindsight, my best memory is my dad's parenting style. Which let us, as kids, sometimes fail," Chris reflects. "There was no helicopter parenting. But he was always there to help you pick up the pieces and learn from your mistakes. Growing up on a small Nova Scotia farm will instill that sense of self reliance in you!"
Secondly, Karl took great pride in his volunteer work.
Karl devoted his spare time as board member and president of 'Farmers Helping Farmers', a local volunteer group travelling to and assisting African farming communities in need. "My father loved that a small volunteer organization from Canada's smallest province could have such a big impact by being hands on and not just raising money."
Through Farmers Helping Farmers Karl travelled to Africa to be on the ground, at the villages helping set-up and teach to run whatever equipment the group determined would best help the local farming villages. "Positively affecting the lives of peoples not as fortunate as Canadians gave dad great satisfaction," said Chris.
Throughout his career and into retirement, Karl also spent time volunteering with other community and professional groups including the Professional Agrologist Association.
"Our dad had a positive impact on every group he worked with."
Thus, leaving a special place in the heart of many and a mark on the agricultural industry.