News
»
Go to news main
The Three Sisters
Posted by
stephanie rogers
on October 27, 2021 in
News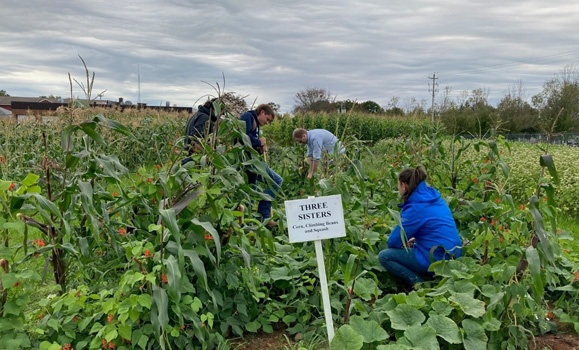 Students in the Introductory Soil Science course (Soil 2000) practice soil sampling techniques in the Three Sisters demonstration plot at the Plant Food and Environmental Sciences Demonstration Garden.
The Three Sisters planting is found historically among many different Indigenous North American communities and consists of an interplanting of corn, beans, and squash – the Three Sisters.
The three plants benefit one another as they grow. Corn is planted first, when about 10cm tall, the beans are planted around the corn which will provide support to them as they grow.  Beans, like other legumes, have bacteria living on their roots that help them absorb nitrogen from the air and convert it to a form that plants can use. Corn, which requires a lot of nitrogen to grow, benefits most. Squash is planted last, and the large leaves shade the soil and prevent the growth of weeds.  
The three sisters are also an important trio nutritionally.  Corn supplies carbohydrates, beans have protein, and squash contributes vitamin A.