News
»
Go to news main
Finding her true passion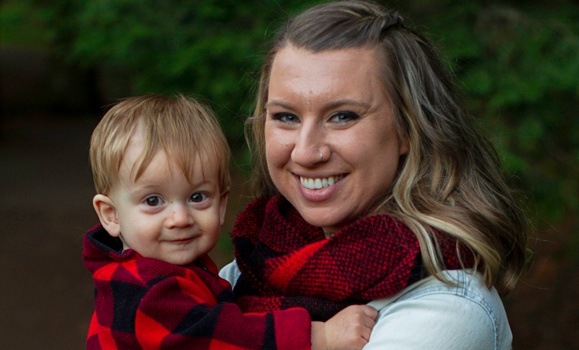 Rebecca Apperley-Ryan moved to Nova Scotia from Kamloops, British Columbia in the summer of 2010 with no plans to stay.  Eleven years later she is on her way to becoming a teacher with son Everett by her side.
"In 2013 I graduated from the NSCC Horticulture program and wanted to further my education," explained Rebecca.  "I was fascinated by all aspects of plant science so a major in Plant Science was the obvious next step." 
While attending the horticulture program at NSCC, Rebecca was required to complete an internship. She worked at the Harriet Irving Botanical Gardens and had the opportunity to work in a tissue culture lab.
"I really enjoyed doing tissue culture, as well as learning about the Acadian Forest and the native plant species to the area," she added.   Working with researchers and doing conservation with plant species was what ultimately led her to the plant science program. 
Rebecca began her degree program as a mature student and was anxious about the challenges of pursuing a degree at 26 -years of age.
"My favorite part of the AC was the sense of community it provided," said Rebecca.  "I began my degree at 26 and was anxious going to university as a mature student, but I quickly found other students within my program who were also mature students and could relate to the same challenges I was facing."
The smaller class sizes allowed Rebecca to get to know her professors and instructors. Having the opportunity to build rapport with professors and instructors lead to an amazing summer job opportunity as well as being able to work as a Teaching Assistant which helped her realize her passion for teaching.
"I will always value the support I was given by my community of peers, professors and instructors at the AC," said Rebecca.
Rebecca worked for Dr. Nancy McLean one summer and thoroughly enjoyed working in her lab.
"I had the opportunity to do field work as well as lab work and gained a lot of valuable skills. Dr. McLean is such a wonderful person to work for, she took the time to ensure I understood procedures and helped me with research projects. Everyone who worked in the lab at the time was very knowledgeable and it was a great experience."
The sentiment was echoed by Dr. McLean
"It was a joy to walk through fields collecting plant-pollinator interaction data with Becca," said Nancy McLean, assistant professor, plant breeding and genetics.  "She was passionate about documenting the variety of bees and flowers and worked energetically even on hot days when she was pregnant. Becca was also a joy to have in my classes. She is a thoughtful and caring person. She will make an excellent teacher."
Rebecca was also a Teaching Assistant and worked closely with Cynthia Parks for the lap portion of the Agricultural Ecosystems course. "Cynthia was a great example of an instructor who displays compassion and empathy for her students," she explained.  "It was this experience that I realized teaching was the direction I wanted to take. I really enjoyed interacting with the students and helping them understand the subject matter of the labs."
During the last year of her degree, Rebecca's son Everett was born.
"It was very difficult to balance school with a newborn but in a weird way the pandemic made balancing school and motherhood easier because classes were online, and a lot of my courses were asynchronous so I could study when my son was napping. Everett also attended a few online labs and made appearances in help sessions," she said.
Rebecca is currently enrolled at Mount Saint Vincent University completing her B.Ed. in secondary education.
"I hope to become a science teacher so that I can encourage students to pursue their passions and support them in achieving their goals."