News
»
Go to news main
Local Grown Salads with international talent
Posted by
stephanie rogers
on July 19, 2021 in
News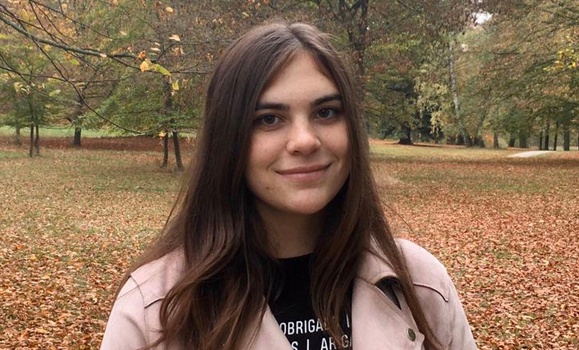 Melissa Maas grew up in Germany, moved to Canada and is completing a Dalhousie University internship with a start-up company based in Philadelphia.
Such is the nature of her dual degree in International Food Business (IFB) at the Faculty of Agriculture which provides a unique opportunity for students who are interested in understanding the global food industry from the farm gate to the consumer's plate. 
"I became interested in the IFB program because it's a business program that is much more focused on a specific area which is food," explained Melissa.  "Food is something that will always be relevant in the future as people will always need to eat."
This one-of-a-kind program awards students with two degrees - a Bachelor of Business Administration from Aeres University in the Netherlands and a Bachelor of Agriculture in International Food Business from Dalhousie University.
"Regardless of whether I work in business or agriculture, it is a great advantage to receive two degrees and gain experience from two continents," she added.
Part of the dual degree includes a 12 week-internship and with the pandemic halting in-person travel, students needed to be flexible.
Working virtually from her home in Halifax, Melissa is a Marketing Intern with Local Grown Salads, an indoor, vertical farming start-up run by Zale Tabakman in Baltimore.  Melissa began her internship by conducting research on the company, area and people utilizing knowledge and theories from her courses. Through collaborations and meetings, she has quickly progressed to writing, creative work, voice-overs, project management and more.
Initially Melissa was hoping for a physical internship for her first experience but quickly adapted.
"Its different but I have been managing well," she explained.  "It may not be traditional work experience but it's very much future-orientated.  It is great experience to have and encourages self motivation," she added.
Local Grown Salads is growing over 60 fresh herbs, greens and vegetables in an indoor, vertical farm and hopes to launch its product in Philadelphia.
"We create food to create impact using technology, to create food, to create impact to create tech," he explained.  "The experience with Dalhousie has been absolutely wonderful, phenomenal," he explained after having hired several Dalhousie students in a variety of capacities including Melissa.
Zale was so impressed with Dalhousie students that he took the principles of the process and expanded it to other universities including Lethbridge and George Brown College.
"The students are brilliant," added Zale.  "They are taking on so much responsibility and are very, very smart.  You just see them growing so fast and so quickly."
In the future Melissa hopes to work for a company that is active internationally.
"I like the idea of working in marketing or management for a big hotel chain or restaurant chain that wants to bring delicious foods to people in a sustainable way," said Melissa.  "It is food business.  Almost anything I do I take experience from what I've learned."
Melissa is grateful for the opportunity to complete her internship during the pandemic and the Faculty of Agriculture is appreciative of the support of RBC to bring it all together.
"We are very fortunate to have the financial and volunteer support of our local RBC partners, particularly in this year of turns and challenges," explained Manager Work Integrated Learning, Joy Galloway-Jones. "Some of these opportunities would not be able to happen without their generous donation."
The Faculty of Agriculture provides students from all of programs opportunities to complete internships and other experiential learning.  In addition to the IFB program, interns from the Plant Science program are also completing internships with Local Grown Salads.
"I have grown a lot over the past three months and am excited to take those skills with me in the future," added Melissa.

For students looking for a work experience like Melissa's, see positions at http://WorkExperience.LocalGrownSalads.com