News
»
Go to news main
The Next Generation of Soil Scientists
Posted by
stephanie rogers
on June 23, 2021 in
News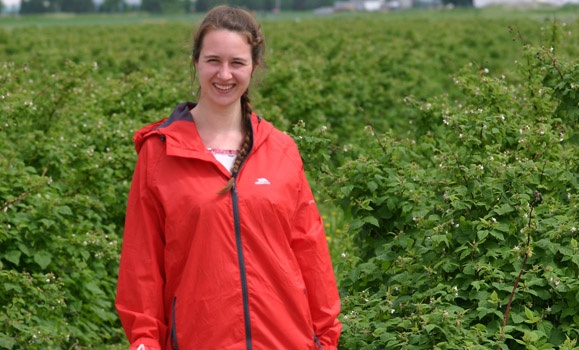 Soil is a living ecosystem, and its continued health is vital to sustain the life of plants, animals, and humans.
PhD student Stephanie Lavergne, under the supervision of Dr. Derek Lynch and Dr. Caroline Halde at Laval University, is hoping to provide a better understanding of how mechanical weeding, including soil tillage, in organic cropping systems influences soil health.  Stephanie is also the first recipient of the Walter Termeer Graduate scholarship.
"My area of research is soil health in organic farming," explained Stephanie.  "I have a strong interest in cropping practices that reduce the impact of agriculture on the environment, such as conservation agriculture and the influence on crop production, nutrient cycling, plant diversity and soil health."
As a young scientist, Stephanie is motivated to work with dynamic innovative growers at the forefront of agricultural technologies and practices. She is hoping to develop sustainable cropping systems that are adapted to the Canadian agroecosystem to improve the productivity of agricultural businesses while limiting the environmental impact of their practices.
Stephanie has been involved with extension activities with producers and agronomists in Quebec. She is also acting as a research officer in Abitibi-Témiscamingue where she is developing a research program to promote organic grain cropping systems in Northern Quebec and Northern Ontario.
"Understanding, in a nuanced way, how field management practices and combined approaches influence soil health and soil carbon dynamics is a key research gap that must be addressed if ambitious federal and provincial targets linked to soil health and soil carbon are to be achieved, explained Dr. Derek Lynch.  "Stephanie's research will be an important contribution in that regard."
Dr. Derek Lynch is a professor in the Department of Plant Food and Environmental Sciences and is a former Canada Research Chair in Organic Agriculture.
Stephanie was drawn to the Faculty of Agriculture in Truro because of the University's strong connection to the Canadian organic sector and the opportunity to work under world renowned soil scientists like Dr. Derek Lynch.  The Organic Agriculture Centre of Canada is also located on the Truro campus.
"Like Walter Termeer, sustainability, compost and soils are dear to me. I am proud to be a part of the next generation of soil scientists and to walk on the path of people like Walter Termeer," said Stephanie "Receiving this award helps me conduct my research without having to worry as much about my financial wellness. This is the kind of extra help that will allow me to share results from my PhD in different scientific conferences."
The Walter Termeer Graduate Scholarship is awarded to students in any discipline within the Faculty of Agriculture who are conducting research in areas related to soil science, soil health, and composting.
"I believe in participatory research, in which growers are involved and scientists address key issues to promote agricultural sustainability."