News
»
Go to news main
Finding Your Career Path with Gillian Hatch
Posted by
stephanie rogers
on June 22, 2021 in
News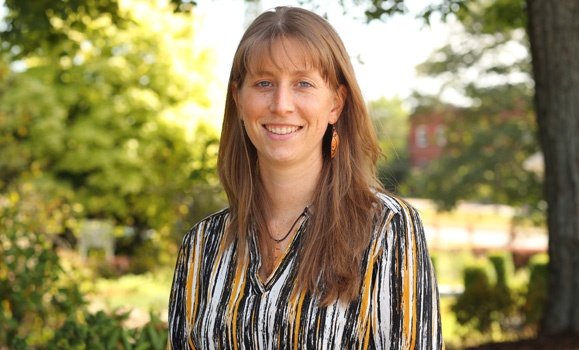 Gilliam Hatch knows its not always a straight line to finding your career path. 
Growing up on a hobby farm in West Quoddy, a rural community on the Eastern Shore, she always had an interest in animals and biology. With her interest in animals and farming, Gillian's plan was to go to vet school. In her grade 12 year, Gillian surprised herself by not even applying to Dalhousie.
"I changed my mind and went to another university for astrophysics, of all things," Gillian laughs.
The campus and program didn't quite fit, so she transferred to the Faculty of Agriculture. During her time on the Agricultural Campus, she figured out vet school wasn't really her calling. In 2013, she graduated with a Bachelor of Science (Agriculture) with a major in Animal Science and minor in Animal Welfare. After graduating from Dal AC, Gillian completed a Master of Science degree through the University of Guelph.
Despite not following the path she had originally set for herself; Gillian has been able to apply her degree in less obvious ways throughout her career. It's her personal experience with creating her own path that makes Gillian excited to help other students do the same.
"A university education isn't just about what you learn in the classroom, it's about new experiences and growing as a person," Gillian says, "I want to help students grow outside the classroom and help them achieve their goals, whether that's becoming more involved on campus or finding a career they will truly enjoy."
Not only is she passionate about helping students succeed, but Gillian also truly feels at home on the Ag Campus. As a student, she valued the hands-on experience both in and out of the classroom. Now, as a member of the Student Success Centre team, she recognizes the sense of community.
"Everyone on campus is so welcoming to new or returning staff and students!" Gillian says. "They genuinely care about the students on campus. I chose to study at the AC because it seemed like the perfect fit for me, it was a smaller campus and a close-knit community, which felt more like home to me than a school in the city. I'm glad I can continue my career on this beautiful campus. The most exciting part is welcoming the new students to their new home, hoping that I can help them find their place in the world."
Gillian (Class of '13) discovered her passion for working with students first from her role in recruitment and later when she began a role as Student Success Advisor with Dalhousie University Faculty of Agriculture.
Moving from a position in recruitment with the Registrar's office to her role as Student Success Advisor at Dal AC, Gillian was looking forward to building and maintaining relationships with as many of the students as possible on campus. This year she is excited to be welcoming two incoming classes to campus during our New to Dal Student Orientation.
"I'm really looking forward to seeing students on campus," Gillian smiles. "During this past year I've really missed students popping into my office to say hi or ask a quick question. Virtual tech is great as it still allows us to meet face-to-face but there is no substitute for meeting with students in real life."
As Student Success Advisor, Gillian is available to support students throughout their university career, alongside the rest of the team at the Student Success Centre. A key part of her role is to help first year students with course selection. Her role is certainly not limited to first year students though- Gillian will always be available to help any student on campus, whether it be career goals, degree planning and more.
"I'm here for students, whatever it is they may need," she explains. "If I'm not the best person to talk to, I can help them connect with someone better able to assist."
New to Dal student orientation planning is underway across the university. Gillian has been involved in orientation since joining the team at the Student Success Centre and helped to plan an entirely virtual event last year. This year's event will combine the benefits of a virtual event with AC traditions, such as haybale sculpting, a corn maze and bonfire.
"I'm excited for this year's orientation! It's a collaborative process not only with our campus community, getting support from Cultiv8, Athletics, and others, but across the institution, partnering with other student supports such as Together@Dal, Black Student Advising and the Indigenous Student Centre," she says.
Gillian has been primarily working from home during the pandemic and is looking forward to being back on campus later this summer and begin welcoming students back to campus this fall.
"Each year I aim to meet every incoming first year student, or to have been in contact with them at some point during their first academic year, this year I'm including second year students in that goal" Gillian says confidently. "Whether it is to help with course selection or even if they just stop by my office to say hi and introduce themselves, I hope I can meet all of them."
Students can drop by and visit Gillian at her office in the lower level of the Dairy Building or via e-mail, gillian.hatch@dal.ca