News
»
Go to news main
Atlantic Canada: a small but mighty place of its own
Posted by
stephanie rogers
on June 11, 2021 in
News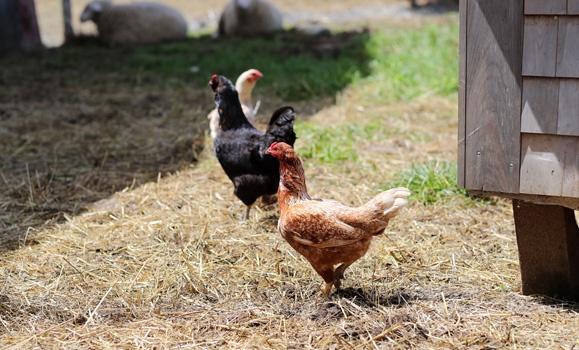 According to David Gray, the Dean of Dalhousie's Faculty of Agriculture, there are a few features that distinguish the agriculture and agri-food sector in Atlantic Canada from other regions in the country.
"We're quite different here," says Dean Gray. "One of those reasons is that agriculture is still very much the cornerstone of our rural communities."
In Prince Edward Island, a province many would consider more rural than not, agriculture represents the bulk of P.E.I.'s GDP.
"We are absolutely an agriculture-based province," says Ron Maynard (Class of '74), President of the P.E.I. Federation of Agriculture. Ron is also a dairy farmer who operates Port Hill Milking Company with his cousin and adult children from both families. The farm has been in the Maynard family since 1822. Multigenerational farms aren't uncommon in the province and that highlights the industry's influence on culture and livelihoods over time. There's also a certain appeal to a place that's so connected to its food and that plays well in P.E.I. tourism campaigns (the fact that island-grown potatoes have a world-wide reputation doesn't hurt either).
"We call ourselves Canada's food island," says Ron. "One of the reasons we have a robust tourism industry, besides the beaches of course, is because of the farming community."
The weather in Atlantic Canada is another distinguishing feature in the region. The temperate maritime climate provides ample moisture for growing and keeps temperatures from getting too hot. That's why potato crops do so well in P.E.I. and New Brunswick, making both provinces international leaders in production. In Nova Scotia, cool summer evenings boost the quality of Annapolis Valley apple production. The province's northern shore is home to Oxford, known as the wild blueberry capital of Canada. The berry is native to the region and has become Nova Scotia's most important agriculture export. Potatoes, apples, and blueberries are all well-known Atlantic Canadian commodities, but the region also contributes livestock, grain, and other fruit and vegetable production.
Newfoundland and Labrador, the northernmost of the Atlantic provinces, has rockier land than its east coast peers. Matthew Carlson, the Young Farmers Coordinator with the N.L. Federation of Agriculture, says the province has less arable land for agricultural uses. Nevertheless, that hasn't stopped producers from dabbling in a little bit of everything. Fruits, vegetables, grains, livestock. Even beekeeping is on the rise, which works well for the province's cranberry production too. The island status of Newfoundland has allowed the province to protect its honeybees through strict regulation and now it's one of the last places in the world with disease-free hives.
Seafood is, of course, another well-known commodity in Atlantic Canada. Aquaculture plays a large role in seafood production and will continue to be relied on to address food security as the global population rises. Despite provincial and federal governments separating agriculture and aquaculture into different ministries, the Faculty of Agriculture includes aquaculture in its research and educational programming given its critical role in food production.
"From our perspective, aquaculture is food farming in the ocean," says Dean Gray, who has a background in marine biology. "Atlantic agriculture includes aquaculture. Therefore, we have this huge resource all around us."
The diversity seen in the region's agricultural portfolio is another feature that sets it apart from the rest of Canada. Considering that fewer than four per cent of Canadian farms are based in Atlantic Canada, it's quite impressive too.
A land of innovators
There are about 7,500 farms within the four Atlantic provinces. In Ontario the number of farms is pushing 50,000, followed by Alberta at around 40,000 with Saskatchewan trailing behind. Given the sheer size of those provinces compared to Atlantic Canada, it's no wonder. As a result, Atlantic Canadian provinces have had to work a little harder. And that resilience has sparked innovation.
"We've always had to compete with the big guys," explains Dean Gray. "We're always looking to find new or more effective ways to do things. There's this culture here of wanting to stay ahead of the curve."
Faith Matchett, Farm Credit Canada's Vice President of Operations for the Atlantic region, agrees.
"We're small but mighty," says Faith, who's based in New Brunswick. "We're punching above our weight because we've had to."
Faith thinks the region's "innovation bend" is thanks to a strong network of universities, colleges, funding agencies, development agencies, and start-up supports like incubators and accelerators. "What we have here, given our population, is incredible," she says.
This innovation ecosystem includes Cultiv8, an innovation sandbox hosted in the Faculty of Agriculture. Its programming is designed to get students across the province thinking about innovation in agriculture earlier than ever. Then there are the research collaborations between faculty members and industry giants that aim to improve efficiencies and discover new ways to maintain a competitive edge on the world stage. Like Ahmad Al-Mallahi's partnership with McCain Foods in New Brunswick that explores precision agriculture in potato production, or David Percival's collaborations with Oxford Frozen Foods in Nova Scotia to better understand the fundamental biology of the wild blueberry plant.
Atlantic Canada's dairy industry has a good reputation in part because it has shown immense interest in the latest technologies that can improve production, health and nutrition among herds. But innovation isn't always about finding high-tech solutions.
Sheep farmers in Newfoundland, for example, are in the practice of bringing herds by the boatload to nearby islands for predator-free grazing each summer. The coastal diet gives them a unique flavour that's marketed as salt-water lamb.
Faith also points to Covered Bridge Potato Chips in N.B., another producer who used clever marketing to launch a new line of their product.
The company played off the popularity of the #stormchips hashtag, which sees Atlantic Canadians bonding online over stocking up on potato chips in advance of approaching storms. Named accordingly, their Storm Chips pack four top-selling flavours — a "flurry of flavours" — into one bag. Covered Bridge recognized the power of community in branding and sold out of their new product soon after launching. Storm chips are now available across Canada and the United States.
"Innovation is about figuring out new ways to do things," says Faith. "It's about coming up with those ideas that can increase the consumption of our product here and then figuring out how to market it to the rest of the world."
Growing more food at home
Remaining competitive is one reason for innovation, but an increasing desire to improve food security within Atlantic Canada prompts innovation too.
Matthew Carlson says the farming community and the government in Newfoundland and Labrador are deeply committed to making the province more self-sufficient, especially after last year. In January 2020, a massive storm dumped up to 35 inches of snow over parts of the province. A state of emergency was ordered in the city of St. John's and the province came to a standstill, including the ferries. With no land bridge connecting Newfoundland to mainland Canada, the ferries are absolutely crucial for the shipment of goods. Then the pandemic hit, further highlighting how important it is to grow, produce, and process food in-province.
"There's been more of a shift in thinking towards supporting local and growing local," says Matthew. "I think that's a world-wide trend because of the pandemic, but it's a bit more pronounced here, being an island and having those two challenges in one year."
Matthew points to Faculty of Agriculture alum Chris Oram (Class of '11) and his farm's offerings as an example of simple but effective agricultural innovation in N.L. Despite challenges with the province's land and weather, the latter of which can be more extreme than its neighbours, Matthew says Chris is a producer "who will try different crops and grow things you'd never think could be grown in N.L." Chris gained recognition within the province when he successfully grew cantaloupe, which he did by putting a black covering over the plants to get them started earlier in the season, keeping them warm enough when temperatures were still on the cooler side.
A gateway region united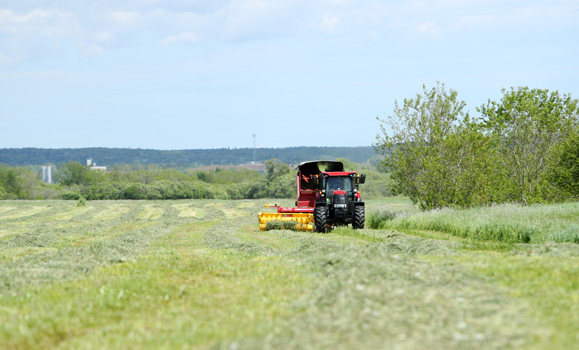 "One of the great things about our region is that we are on the east coast," says Dean Gray. "We're the gateway to Europe when it comes to ports and airports."
Access to prime international markets like Europe is an opportunity for the Atlantic Canadian agriculture sector, but the current trend of centralizing food processing in Canada creates a barrier to capitalizing on that opportunity. The food miles add up quickly if products have to be shipped out of Atlantic Canada for processing first. That significantly lengthens the food supply chain before the point of distribution, and it's also a concern when considering the characteristics of the sector in Atlantic Canada.
"One of our unique selling points is the fact that most of our farms are small and medium-sized enterprises, which of course can also be a challenge if that's not taken into account when policies are rolled out nationally," he adds.
Dean Gray suggests that there's a misconception that agriculture looks the same across Canada.
"Our Canadian government needs to look at that and identify the fact that there are different regions with different agricultural approaches and all of them are needed," he says. "Policy development needs to take into account those differences."
If the region wants to address national policy trends that put Atlantic Canada at a disadvantage, Dean Gray thinks collaboration across all four provinces to come together as one united voice and brand is a good place to start.
"Although we have our own distinct identity in each province, we are all facing the same agricultural challenges," says Dean Gray. "What we should be doing is working together to develop a regional strategy and approach to agriculture."
Finding solutions together

There's another important reason to bring the Atlantic Canadian agriculture community together: to encourage more young people in the region to pursue careers in agriculture and agri-food and move the sector forward.
"We need to be working with our youth, communicating with them about the importance of agriculture. Talking to them about how wide and diverse these industries are. It's not necessarily just farming, there are hundreds of careers that are crucially important," says Dean Gray.
He says that agriculture is at the nexus of three major global issues: food security, climate change, and access to clean safe water. Agriculture (and aquaculture) is needed to feed over 9-billion people by 2050. At the same time, the sector is the largest user of land and fresh water on the planet. Those working in agriculture are acutely aware of its impact on the environment. Contrary to some messaging in mainstream media, Dean Gray says agricultural industries — collectively and at the individual level — are working incredibly hard to find sustainable ways to minimize environmental impacts.
The next generation of agriculture needs young bright minds to ensure the sector works even harder to address these global issues and find sustainable solutions. And Atlantic Canada is an ideal place to tackle the challenge.
"Atlantic agriculture is perfectly placed to be the testbed where we can try out new technologies and approaches," he explains. "The people here are up for it — they're innovative. And we're the perfect size to try these things out.