News
»
Go to news main
The Best Detour
Posted by
stephanie rogers
on June 8, 2021 in
News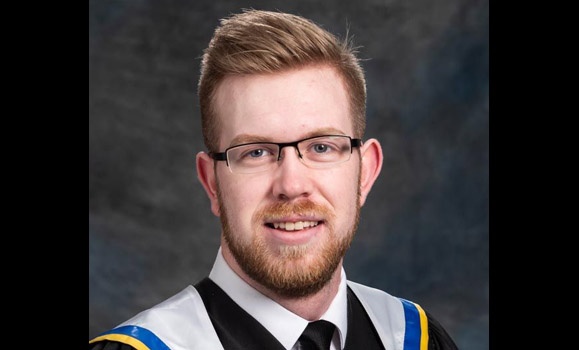 Believe it or not, Dalhousie's Faculty of Agriculture was not in Robert Larsen's original plan.
"I wanted to attend university close to home to remain on the farm," explained the Cape Traverse, PEI native. However, a trip to the Agricultural Campus on his way to look at cattle changed everything.
"It was all I needed to know; this was where I wanted to complete my degree," he added.  "I applied that night. I don't regret it for a single minute and while I'm glad to have completed my degree, I am very much going to miss the campus and the many great people I have had the chance to work with during my time there."
Robert has certainly left his mark on campus and was elected by his peers as Life President of the Class of 2021.
As Life President, Robert will act as the main representative between the Class of '21, the Agricultural Campus Alumni Association and the Alumni Relations office. He will ensure the interests of the Class are being observed in the matters of finance, publicity, reunions, and funding.
For the last three years Robert has sat on the Faculty of Agriculture Alumni Association as an ex-officio member representing the Dalhousie Agricultural Students' Association (DASA) of which he served three terms as Vice President Finance and Operations and for a semester as Interim President. Robert has also represented DASA as the Faculty of Agriculture Councillor on the DSU Council, served as Vice-Chair of the Student Representative Council (SRC), founder and inaugural Chair of the DASA Residence Council, and as Chief Operating Officer of The Barn.  
"I am honoured to be elected by my fellow graduates as Life President of the Class of 2021," said Robert.  "Throughout my entire time at the AC I have been fortunate to hold positions on SRC and on DASA, representing Aggies. In many ways, the job remains the same, but shifts its mandate," he added.  "It is my hope the relationships I have developed on campus over the past four years will serve the graduates of the Class of 2021 well in the years ahead."
With his degree in Agricultural Business, Robert plans to continue to work with his parents Lorne and Brenda and younger brother Justin, a second-year Plant Science Diploma student at the AC, on their beef feedlot. He also operates a custom Agri-services business, Norring Road Custom, owned by his family.
Juggling many things at one time is a skill with which Robert excels and has earned him a Distinguished Graduate award.  Recipients are recognized for contributions made through their involvement over time in multiple activities, including, but not limited to, student government, campus activities, community service, sport and recreation, internationalization, or other campus programs.
Robert is drawn to activities and programs he is passionate about such as agriculture, rural communities, governance, and youth-adult partnerships. His purpose is found in contributing his time to various organization as well as growing his skillset.
"That's what drives me and gives me fuel to tackle anything - whether it be on the farm, in business, or in my volunteerism," he explained.  "And like many, I appreciate the validation that comes with success and from doing a good job. This success motivates me to seek out other opportunities and take on other projects."
Robert was recently re-elected to the 4-H Canada Board of Directors and is a current member of the Albany Centennial 4-H Club. He is very passionate about 4-H and has served on the PEI 4-H Council Board and has attended over a dozen conferences and events all over North America as a delegate, facilitator, and Emcee. He also takes a keen interest in politics and has served two terms on the Premier's Youth Council.  
"I am impressed by Robert's ability to successfully juggle his studies, his work with DASA, contributions to 4-H and farming," said Assistant Dean, Students Dr. Nancy McLean.  "Robert's passion for agriculture is infectious and I anticipate hearing about his future contributions to the industry."
As a student on the Agricultural Campus, Robert has had a chance to network with professors and experts in the industry and has developed strong relationships with peers who too, will be at the forefront of the industry in the years ahead.
"Not only are these people my friends, but I will continue to be involved professionally with them for the duration of my career in agriculture," explained Robert.   "Whether it be my seed or fertilizer salesperson, the person transporting my livestock, the equipment dealer, salesperson or technician, my competition at livestock and machinery auctions, representatives at the federal and provincial departments of agriculture or employees on my farm themselves; I have no doubt many will be AC grads," he added.
"In this way, we will all be connected to the AC community for the rest of our lives."