News
»
Go to news main
2021 Achievement in Internationalization Award ‑ Lana Bos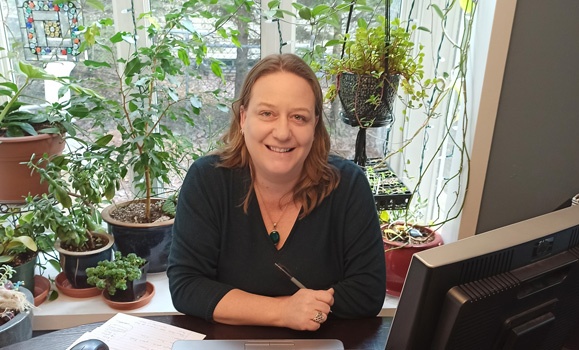 Internationalization of the Dalhousie Agricultural Campus is a key component of a strong student experience. Study abroad, international development and research opportunities all contribute to an enhanced student experience.
There are many on campus who contribute to internationalization efforts but none more than Lana Bos, the 2021 recipient of the Achievement in Internationalization Award.
"This award serves to recognize and celebrate the achievements of a member of staff or faculty who has contributed to one or more of the numerous aspects of internationalization at the Dalhousie Faculty of Agriculture," explained Wayne Paquet, Manager Academic Administration.
Internationalization includes but is not limited to international development cooperation and projects, international research collaboration, international students on campus, domestic student mobility abroad and internationalization of curriculum and knowledge exports.
Lana, a member of the Extended Learning team, has served as the Competency Based Education and Training (CBET) lead on several international development projects in Ethiopia, Uganda and Dominica, St. Kitts.  In this role, Lana has developed and delivered training in CBET education to Faculty of Agriculture staff and faculty as well as college instructors of partner institutions.
Lana has consulted with the agricultural industry in these countries, helping develop curriculum and train farmers, students, and instructors. She has written over 15 occupational analyses and many short courses and trainings. She also co-authored a comprehensive learning guide on developing CBET curriculum. Lana has provided expert advice and guidance on all project teams as well as in country partners including ministries of education at all levels of government.
In addition to this important project work, Lana has also supported the International office by presenting at conferences, supporting requests to funding agencies, and participating in international campus activities and meetings as both a facilitator and host.
As one of her nominators stated: "Ms. Bos is a strong advocate for positive change through education. Her expertise, enthusiasm and awareness of the differences and the similarities across countries and people is highly effective in promoting such change in our development projects. I have been very impressed with her dedication, hard work and persistence in the face of often very difficult international situations…She consistently upholds the basic human rights of people wherever she goes; she is a great emissary for Dalhousie University and for Canada."
Congratulations Lana!