News
»
Go to news main
Atlantic Canada's Outstanding Young Farmers
Posted by
stephanie rogers
on May 14, 2021 in
News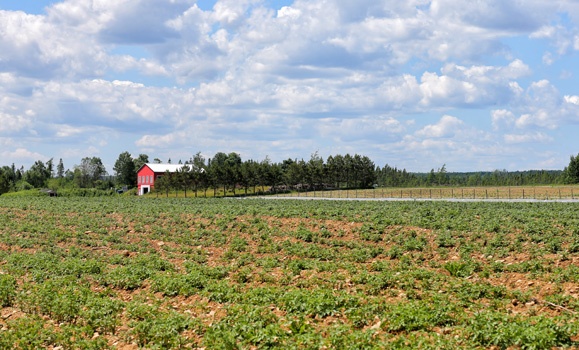 Whether you live here or not, there is no denying the uniqueness of Atlantic Canadian agriculture. Our farms may be smaller, it's wet, it's windy, and unpredictable, but we've figured out how to grow through rocky soil, deal with climate change, persevere and be successful all on our own.
There is no greater proof of this than the Canada's Outstanding Young Farmers program.
"This is a premiere awards program, celebrating young farmers," adds Regional Board Member, Nicole (Kilfoil) Oulton (Class of '98), "what makes it even more unique is that it is not industry specific."
Nicole and husband, Wayne (Class of '94), were named Atlantic Canada's Outstanding Young Farmers in 2008. They've been involved with the program ever since.
Originating in the United States and adapted nationally in Canada in 1979, Canada's Outstanding Young Farmers' mission is to discover, celebrate and recognize progress and excellence in Canadian agriculture.
Each year, farm operators between 18 and 39, who derive a minimum of two-thirds of their income from their farm operation, are nominated in their region. Nominees participate in an extensive judging process. One farming family is selected from each of the seven regional events, the Atlantic provinces come together to create the Atlantic region, to represent their respective region at the National Recognition Event.
Nicole played a larger role in 2019 as the National event co-chair, which was held in Fredericton, NB.
"Literally, at an Outstanding Young Farmers event you are surrounded by the most positive, forward thinking entrepreneurs in Canadian agriculture," Nicole says. "Farmers are supporting farmers and it is so motivating. Each year Wayne and I come home and make improvements to our operation, based on what we experienced and learned."
In the 40 years of naming Canada's best in agriculture, nearly half have been awarded to Atlantic Canada farmers. These farmers have stood out, against the rest in the country based on the following criteria:
Progress made during their farming career
Maximum use of soil, water and energy conservation practices
Crop and livestock production history
Financial and management practices
Contributions to the well-being of the community, province and nation
The success of Atlantic Canadian farmers comes as no surprise to Allison Woodworth (Class of '63) and his wife, Ronalda, now retired from farming in Berwick, NS.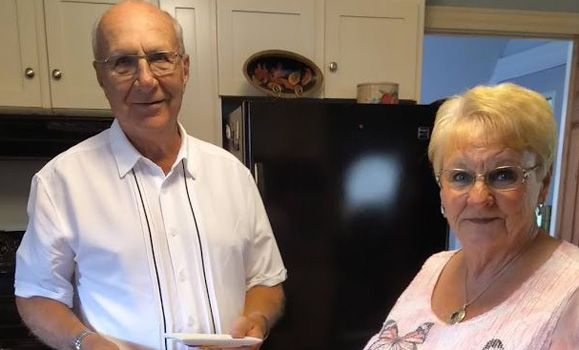 "Growing up in agriculture and even when I was running our family farm, I always heard the farms out west are bigger and better," said Allison, "compared to our diverse farms in Atlantic Canada."
Allison and his wife, Ronalda were named Atlantic Canada's first Outstanding Young Farmers in 1980. They were then sent to Calgary, Alberta for the inaugural Canada's Outstanding Young Farmers National event. Competing against farmers from every other province, their certified strawberry plant, apple and vegetable operation stood out.
Allison and Ronalda returned home as the first couple to be named Canada's Outstanding Young Farmers.
"Participating in Outstanding Young Farmers certainly afforded us opportunities we wouldn't have otherwise had, especially at that time," adds Allison. On many levels.
"It was unheard of for us to leave the farm during harvest," said Allison. "But my sister came to look after the farm and off we went to Calgary for the National event."   At that time, the farm included millions of certified strawberry plants, close to 100,000 quarts of fresh strawberries, 150 acres of apple orchards and other vegetables.
While in Calgary for the national event, they attended the Calgary Stampede but also toured many other farms in the province. Allison and Ronalda learned a lot.
"What I really noticed," said Allison, "is the farms really are bigger, as I was told. But they aren't necessarily better. We really can hold up our end in the Atlantic."
Allison and Ronalda's involvement with Outstanding Young Farmers was eye opening and they were proud that farming in Atlantic Canada was being recognized on a National level.
"We never felt judged or as if it was a competition," says Allison. "Everyone had a different story and it was wonderful to learn from the others."
The experience was one-of-a-kind. "Outstanding Young Farmers treated us like royalty," adds Ronalda. "They really took great care of us."
The friendships they made were those that last a lifetime. "We still keep in touch with the couples we met at Nationals, 40 years ago," adds Ronalda, "and one year, all of the couples involved in Outstanding Young Farmers, who lived in Nova Scotia, came to our house for Christmas!"
Allison believes not much has changed with Outstanding Young Farmers in its 40-year history. "Every one of the farmers participating in Atlantic Canada's Outstanding Young Farmers has been outstanding. We've done an excellent job of sending farmers on to Nationals and they've done a great job at bringing awards home."
But farming has evolved resulting in new improvements and different challenges. "With all of the technological advancements, I wouldn't know how to run a farm nowadays," laughs Allison, who sold his farm nearly 25 years ago.

Despite these ever-changing challenges presented to Atlantic Canadian farmers they triumph and inspire young people to follow the lead. Take the Atlantic Canada's Outstanding Young Farmers program as proof.