News
»
Go to news main
It's in her blood
Posted by
stephanie rogers
on April 13, 2021 in
News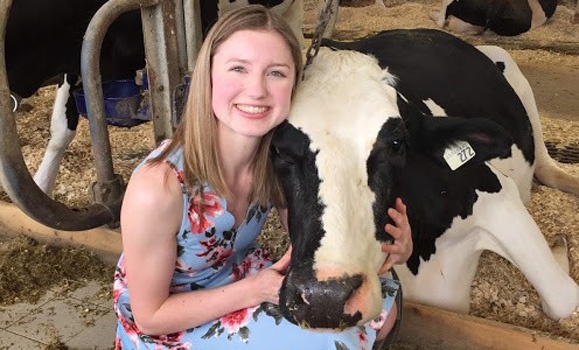 An early introduction to 4-H helped Hantsport native Brook McNeil discover what was always in her blood – a passion for agriculture.
While she didn't grow up on a farm, Brooke still found an early love of dairy farming through her hometown of Annapolis Valley's 4-H program.
"When I was young, I remember wanting to be a teacher or a vet, because I loved learning and animals," she said. "But it wasn't until I got involved in the dairy project in 4-H that I got introduced to livestock."
Through that project, Brooke was able to visit different dairy farms, work with the animals and learn about the industry. She was hooked and it was a natural choice to begin her post-secondary degree at the Faculty of Agriculture.
"I think it was always in my blood due to farming roots on my dad's side of the family in Hants County," added Brooke.  "I credit 4-H for helping me to discover my passion for agriculture."
During her undergraduate studies, Brooke spent two summers working full-time at the AC campus farm, the Ruminant Animal Centre and did her Honors research project on colostrum and calf health. She credits the staff at the campus Farm and the opportunities she had to work directly with animals as the motivating factor in her decision to continue working with dairy and earning a career in the industry.
"The staff are amazing, and I still keep in touch every chance I get," said Brooke. "They are friendly, fun, hard-working, and happy to teach students like me. I learned so much and I'm so thankful to have gotten to work there."
Brooke finished her Bachelor of Agricultural Science with a major in Animal Science in 2019. These days, she's living in Ontario, studying Animal Bioscience for her master's degree at the University of Guelph, with plans to work as a dairy specialist.
Brooke is researching two projects on calf health and behavior.
"I love learning about the constant stream of new research, recommendations, technologies and innovations for dairy farming," explained Brooke. "The pace of these releases can be difficult to keep up with for farmers who are extremely busy with their day-to-day farm management. I see myself working as a dairy specialist after graduation, to help farmers as a friendly contact, making recommendations based on science, informing them of new innovations, and more."
As a young woman in farming, Brooke is optimistic about technological advances being made in agriculture that continue to level the playing field between men and women in the industry.
"I have to work strategically, I can't physically do all of the jobs that some men can, sustainably, but this doesn't make me any less of an agriculture worker," said Brooke. "Thoughtful design and tools make those tasks doable, long-term, for everyone. Innovations are on the rise in agriculture that will play a big role in utilizing each individual's unique strengths maximizing the benefit to farms."
Her biggest piece of advice for young people interested in pursuing agriculture is to get involved, try everything, even if it's not exactly where you see yourself working.
"Through my work and 4-H experience, I've worked with livestock beyond dairy cows, including beef cows, horses, sheep, goats and rabbits, as well as various greenhouse and field crops," she said. "These opportunities allow you to make connections between species and understand different commodities' perspectives, as well as increasing your general knowledge and growing your network!"