News
»
Go to news main
Student Appreciation Award winner Joye Sears
Posted by
stephanie rogers
on April 12, 2021 in
News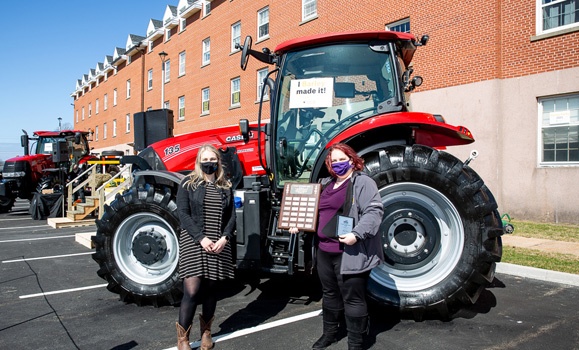 Each year the Dalhousie Agricultural Students' Association, along with the graduating class, selects a faculty or staff member to receive the Student Appreciation Award. 
This individual has made a huge impact in students' lives. The 2021 recipient is Joye Sears.  Joye Sears is an instructor in the Department of Animal Science and Aquaculture and the Veterinary Technology program.
The Veterinary Technology program was one of only a few highly specialized programs on campus to allow students to participate in six-weeks of on-campus instruction during the pandemic. Despite these difficult times Joye has been the glue that has kept the program functioning.
"With her hard work and help from the rest of our Vet Tech instructors, it has allowed us second year students to graduate on time," said one student.
Students love and appreciate all instructors for everything they do. However, since the Class could only pick one, many felt Joye really deserved this award as she has been there no matter what it was students needed.  She, along with many other instructors has helped to shape students into the best Vet Techs they could possibly be.
One student commented, "Anytime someone was unable to assist us or answer our questions we were always told 'go ask Joye' and even at times when many of us felt we wouldn't make it or wanted to quit she was there to help give us the little push and guidance we needed. She is amazing at what she does and absolutely deserves this award!"
Another says, "Joye is the reason I decided to go into the Vet Tech program in the first place and it was honestly the best decision I ever made.  I can't thank her enough. She is such a kind, caring, hardworking, honest, funny, and understanding person and always goes above and beyond to ensure students have the best possible learning environment and experiences throughout their time in the program.
Students unanimously felt Joye was the glue that has held everything together during this time.  
"I believe the Student Appreciation Award is one of the very highest honours Instructors can receive," said Joye.  "As Vet Tech Instructors we build very strong relationships with our students and it's incredibly special to hear the student statements about what those relationships have meant to them.  I'm overwhelmed and grateful to be this year's recipient."
Congratulations Joye!