News
»
Go to news main
Drs. Gray receive Honorary Barley rings
Posted by
stephanie rogers
on April 12, 2021 in
News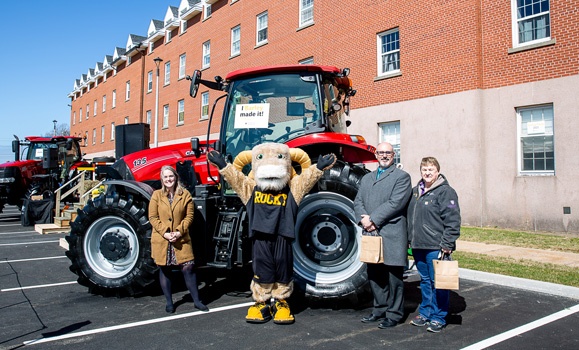 First socially distant Barley party held on campus April 8th
After more than 14 months of virtual working and learning, much thought and effort was put into a safe, socially-distant Barley Party in Chapman House parking lot on the Dalhousie Agricultural Campus last Thursday.
Part of this ceremony included the presentation of an honorary Barley ring to two unsuspecting recipients.
Each year the Alumni Association allows for an honorary ring to be presented annually to an individual who does not meet the criteria to be eligible for a Barley Ring but who is extremely deserving of the honour. These individuals are ambassadors and supporters of the institution. They have made outstanding contributions to the Agricultural Campus community and truly depict the characteristics of an AC alumnus
"The 2021 honorary ring recipients are ambassadors and supporters of the Faculty of Agriculture and have made outstanding contributions to the AC community both internally and externally," said Alumni Association Chair, Colette Wyllie.  "They have had a profound impact on our campus, our students, and our alumni."
In eight short years, Drs. David and Janine Gray have immersed themselves in campus culture.  Their dedication and commitment to what is special about being an Aggie remains at the forefront of every endeavor.
David and Janine arrived on campus with their family in 2013, when the merger with Dalhousie was in its infancy. David, the first Dean of the Faculty of Agriculture and Principal of the Agricultural Campus is now in his second term and Janine is a senior instructor in the Department of Animal Science and Aquaculture.
David is well-spoken and passionate and uses those qualities to inspire those around him. Endlessly optimistic, he always sees the good in agriculture and in the Agricultural Campus and believes the future of both is very bright. After two major fires on campus within three years, David made sure to always see and communicate the positive outcomes. He does not shy away from tough questions and does not believe in asking his staff to do anything that he is not prepared to do himself.  He's even been seen milking cows on Christmas day in the RAC.  Although both fires continue to present challenges, there has been minimal disruption to students.
As an administrator, David has far surpassed the level of involvement of any dean or president in recent memory. From Orientation through to Convocation, he is exceptionally present in the lives of students. He is approachable and down-to-earth and knows an astounding number of students by name. He makes time for student events, participates in student fundraisers, and engages with students on social media. He is a staunch supporter of the Dalhousie Agricultural Students' Association and holds regular breakfast meetings with the executive to hear updates and concerns – something that was not commonplace before his time.
"David is incredibly supportive of all alumni," explained Alumni Manager Alisha Johnson.  "He understands and respects the history of our campus and has taken great care not to ostracize NSAC alumni in the years following the merger. He manages to do this while also creating excitement around the future of the Agricultural Campus and how it will fit within the Dalhousie community," she added.
David stays in regular touch with alumni by hosting annual Dean's receptions all over the region, joining meetings of the Alumni Association, speaking at class reunions when invited, through the Agricola News and social media, and by never missing a Homecoming or Blue & Gold Awards Dinner.
"Janine and I love the AC and everything about it…but when people ask me what my favourite thing is, I always reply, 'the people'," explained David.  "This is truly a special place, its probably no secret that over the last few years I have been approached and invited to apply for positions at other institutions, but I have not even considered it. This is our home, our family."
Dr. Janine Gray is one of the most well-loved instructors on campus. Her course load is astounding – she teaches a combination of lectures and labs for nine different courses over the academic year – and the amount of support she provides to her students is extraordinary. She knows all her students by name and keeps their interests and needs top of mind in all her lectures and labs. Like David, she is very involved in student life and attends student functions and fundraisers whenever her schedule allows.
Janine has strived to bring new opportunities to students in animal-related programs at the Faculty of Agriculture since 2013. With her support, the Bio veterinary Science program was established and accepted its first intake of students in 2016. The program addresses a gap that previously existed between pre-veterinary studies and the Animal Science program.
Janine is also responsible for the establishment of the African Wildlife Ecology course, offered for the first time in the spring of 2016. African Wildlife Ecology is a three-week intensive credit course taking place in the Eastern Cape of South Africa, developed in partnership with the Wildlife & Reserve Management Research Group at Rhodes University. Janine has traveled to South Africa with three different groups of students and will be heading back for her fourth time this spring. African Wildlife Ecology incorporates field research, lectures and practice in conservation and veterinary care and is truly a once-in-a-lifetime opportunity for students - and it wouldn't be possible without Janine.
"I am exceedingly proud to be part of my students' success," said Janine.  "When I was at school my Biology teacher was a great inspiration to me, and probably the main reason I went into science. I have hoped to inspire the same love of biology or science in my students and show them it can be fun as well."
On top of full-time teaching responsibilities, Janine also spends much of her time supporting recruitment and community education initiatives. Somehow, she finds time to develop activities and lead sessions with youth who are visiting our campus, either as part of a school program or with a community group. She has been instrumental in developing a relationship with local Girl Guides units, who now come to campus on a regular basis to complete badge requirements. She never says no when asked for help, unless it directly conflicts with her teaching schedule – and even then, she often tries to find a work-around. She puts in evenings and weekends to get it all done. Hers is often the last vehicle in the Haley parking lot at the end of the day.
Individually, David and Janine are integral parts of the campus community. Together, they are a force to be reckoned with.
"Receiving the honorary Barley ring is the top honour/award that I have ever received…Janine and I will wear them with pride!"