News
»
Go to news main
Why Agriculture? A shared passion
Posted by
stephanie rogers
on March 30, 2021 in
News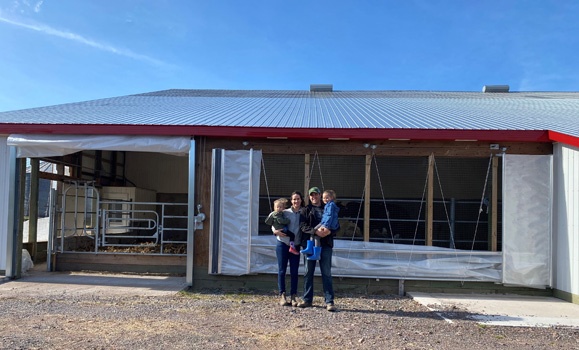 Amanda and William Vosman Class of 2010
Challenging, frustrating, gruelling, satisfying, rewarding, passion – these are some of the words Mandy and William Vosman use to describe their 'why agriculture?' 
"We aren't sugar-coating it, the reality is agriculture can be challenging but at the end of the day it's where we want to be,"explained the Vosmans.

Mandy and her husband William both grew up on a dairy farm and were exposed to agriculture at a young age - surrounded by farmers and the lifestyle.
"We saw how hard our parents worked, which naturally instilled a strong work-ethic," explained Mandy.  "Dairy farming is something we both share a passion in, making it a natural fit."
Mandy and William own and operate Trivee Farms Ltd., in St. Andrews, Antigonish County, a 66-year-old dairy farm, along with their two young children Hayden and Mira.  The Vosman's farm a total of 300 acres growing haylage and corn silage for their herd of Holstein and Jersey cows. They sell their raw milk to Agropur Cooperative and products are made available in all grocery retailers.
Mandy says running your own business is very rewarding and gives you the motivation to continue to push the bar and surpass benchmarks.   
"We are lucky to have a dedicated team of employees who allow the farm to run smoothly.  Along with Will's father who is semi-retired, we have a full-time farmhand, five part-time relief milkers and hire extra help during cropping season."
William explained there was a steep learning curve when they officially took over the business in 2016. "Things are a little different when you have to call the shots, he said."  Mandy has taken on the financial side of the business, while Will manages the herd and cropping aspects.
"It gives me an inside scoop on the financial picture of the business," she explained.  Recently I took a financial management course which expanded my knowledge even more and I believe will benefit the business financially."
Dairy farming is very complex and is more than just milking cows.
"We work with several professional advisors to assist in various aspects of farm management" William explained.  These areas include soil and crop health, herd health, cattle nutrition, milk production efficiency and finance.  On top of the management challenges, the day-to-day operations also require a diverse skill set.  These include basic trade skills in welding, plumbing, electrical, heavy equipment operating, carpentry and mechanics as well as animal health and husbandry.
"Juggling so many different tasks is one of the hardest parts of running a farm," William says.  "But each year gets a bit easier as you find a groove, learn from your mistakes and improve your business."
When asked why she loves to farm, Mandy says it's because she can be her own boss, which allows her to set her own business goals.
"It's very rewarding to see your business grow and it's a great place to raise a family. Lots of things to learn on the farm!"
In their spare time Mandy serves as a Director for Nova Scotia Young Farmers, while William sits on the DFNS Milk Committee and is a Director for the East Nova Holstein Club and the NS/NL Holstein Branch.