News
»
Go to news main
Getting the granola bar to the cupboard
Posted by
stephanie rogers
on March 30, 2021 in
News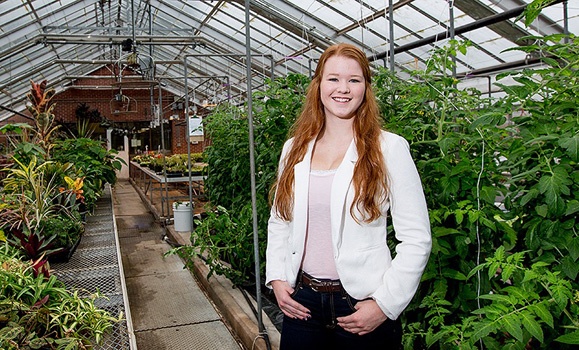 Lauren Peters (Class of '19) loves watching the eyes of a grade nine student widen as the information she has just helped them realize sinks in - it takes a lot of people and hard work to produce something as simple as a glass of milk or a packaged granola bar!
But that's the fun and purpose of her role.
As the manager of Dalhousie Agricultural Campus's Community Education program, her goal is to promote a broad understanding of agriculture and research to educators, students, community groups and the general public.
"My job is extremely unique and always changing, much like food and the agriculture industry," says Lauren. "Each day is different and that is what makes it so exciting!"
Before the global pandemic was declared last spring, Lauren didn't have a normal day.
"One day I could be in a classroom with a group of junior high school students playing a game of trivia and the next I could be touring 4-H members around campus, doing hands-on activities in labs and on the farm," she says. "Other days I could be in the office planning and scheduling or around campus collaborating with staff on new programs for the community."
A relatively new program for campus, Community Education launched in 2015 but has evolved and expanded in it's few short years. Although the way in which Lauren delivers the Community Education program has shifted due to the pandemic, her outcome remains the same.
"The top three challenges facing us globally right now are feeding a global population of nearly 10 billion people by 2050, climate change and thirdly, access to safe, fresh, clean water," says Dean, Faculty of Agriculture, Dr. David Gray. "The answers to these critical issues will all be grounded in agriculture. To meet these challenges, we need to be encouraging bright, young minds into our discipline as they are our future leaders.  
The Community Education programming, mostly geared towards youth, addresses just that – through unique agricultural learning experiences, laboratory activities (for classrooms and community groups), resources and lesson plans, guest lectures, educational field trips on our campus and development and coordination of programs.
"Early on (in the pandemic), I spent a lot of time adjusting to virtual platforms," says Lauren. "I miss the hands-on aspect, but the virtual shift has created new opportunities. I'm already looking forward to expanding our online offerings for Community Education including virtual class visits and community events." She also looks forward to the day when hands-on activities and campus tours resume.
But virtual or in-person, the value of Lauren's work remains the same.
"There are four jobs for every single graduate in the field of agriculture," says Lauren. "I want youth to see the importance of the industry and not be turned away by the word 'agriculture'."
Through her day-to-day programming, Lauren helps youth and community realize the process of getting food from a farm to their own tables. "There is something special about being a part of this ever-growing industry," she says. "It is one of the most rewarding industries, because at the end of the day, when you are home enjoying a nice meal, you can say that it has been produced by someone who truly wants to ensure every Canadian has access to safe and healthy food."
And while the youth absorb the information Lauren has delivered about their food, she hopes it gets their gears considering a future in agriculture.
"I help the students see the vast opportunities in the food industry," she says. "Specifically, in Atlantic Canada – it's so valuable and diverse. I help them realize the opportunities as primary producer on a farm, to turning a raw product into a value-added product, to ensuring food has met all of the safety and quality measures, to marketing the product that will be sold on a retailer's shelf."
And hopefully one day in the future, that grade nine student will sit back and say, "because of the career path I chose, I helped get that granola bar to my own cupboard."
"This program has been incredibly successful, and we are very proud of all that has been achieved in such a short space of time," adds Dean Gray.
For more information on the Community Education programs offered by the Faculty of Agriculture, contact:

Lauren Peters
Email: Lauren.Peters@dal.ca
Phone: 902-968-1276
Website: dal.ca/communityed