News
»
Go to news main
Ag in the Field
Posted by
stephanie rogers
on January 18, 2021 in
News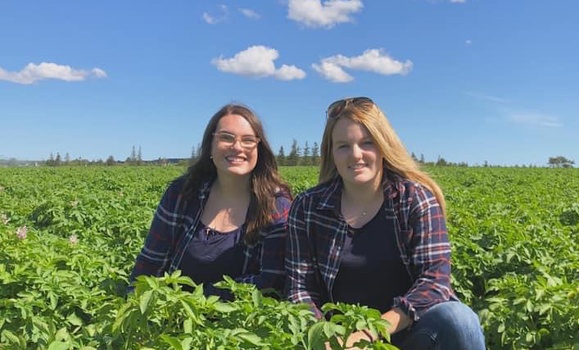 What started as a high school class project in 2018 for Jillian Ferguson and Carleigh MacLeod continues to grow two years later - much like the next generation of young people who will be farming the land and producing quality food for Islanders and their families. 
Jillian, a third year Environmental Science student from Spring Valley, Prince Edward Island, developed the popular social media page 'Ag in the Field' after participating in a #genAG presentation in her high school agriculture class.
"Agriculture in the Classroom PEI had presented the #genAG program to us and through that we had the opportunity to meet many people in our communities that were involved with producing food," she said.  "We gained a very large audience in a short period of time and won a provincial competition between other schools in PEI," she added.
#genAG is a unique career exploration program that inspires high school students to consider pursuing careers in agriculture and food.  Students work in peer groups to develop innovative marketing ideas that promote agriculture and food careers to students in their school.  Groups showcase their ideas through a marketing presentation that includes how their ideas came to be and how they would bring them to life. Presentations are then judged by agriculture and food professionals when student groups compete in their Provincial Competition.
@Aginthefield aims to show its growing audience the real 'dirt on farming right from the field'. However, the page sat idle when the girls began university, until they quickly realized there was still a very large gap between consumers, producers, and the public in terms of where their food comes from.
"We decided to make a plan and start posting again," explained Jillian. "This time, we decided to showcase youth in the industry to shed light on the future of farming and who will take us there. There hadn't been a similar project done through any other organizations in the province, so we figured we would be the ones to start it."
Demonstrating the hard work and dedication of youth involved in food and farming is very important to these young #agvocates.
"We feel many of the people in Prince Edward Island and other areas of Canada are becoming increasingly detached from where their food comes from and simply don't know what is involved in the production and selling of food and our goal is to change that," she said.
Jillian hopes to become involved in research or agronomy once she completes her degree.
"I love working with the scientific side of farming and improving the production and efficiency of food.
To learn more about agriculture visit @aginthefield and dal.ca/agriculture