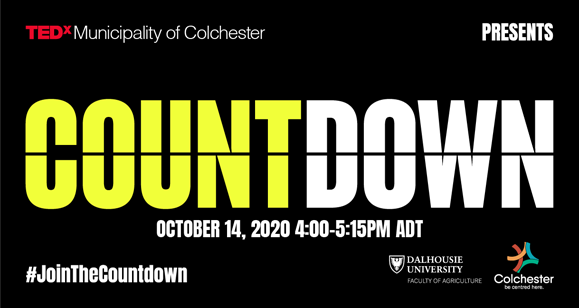 The Countdown is on to a greener future!                                                                                                  

Countdown is a global initiative to champion and accelerate solutions to the climate crisis, turning ideas into action. The goal is to build a better future by cutting greenhouse gas emissions in half by 2030 in the race to a zero-carbon world – a world that is safer, cleaner, and fairer for everyone.
The Dalhousie University Faculty of Agriculture along with the Municipality of Colchester are co-hosting TEDxMunicipalityofColchester, October 14th from 4:00 – 5:15 p.m via Zoom
https://us02web.zoom.us/j/87926236937  
All are welcome. No registration is required. This is a time for action for the climate. There will be a free draw for a tree to be planted in the name of one of the lucky CountDown participants.
"Our hope and our goal are to build upon the best evidence and activate local, bold solutions that inspire us to break out of our silos and address this critical challenge," explained Associate Professor Dr. Kathleen Kevany.  "We have a range of delicious and practical solutions. We can creatively reduce our footprint and foodprint."
The session will focus on Fairness, Food and Nature and will address why climate justice matters, shifting to healthier food systems and how to better protect and re-green the earth.  A TEDx video, a video from the community and a Q & A panel will be available.   
"Some of the most effective solutions to climate change happen at the local level and result in numerous social and economic benefits," added Sustainability Planner Joanne Burris of the Municipality of Colchester.  "So we are not only talking about ways to reduce our emissions, we are talking about making our communities healthier, more affordable, and more resilient at the same time."
#JoinTheCountdown to a safer, cleaner, fairer future.