News
»
Go to news main
A Community of Partnerships
Posted by
stephanie rogers
on August 27, 2020 in
News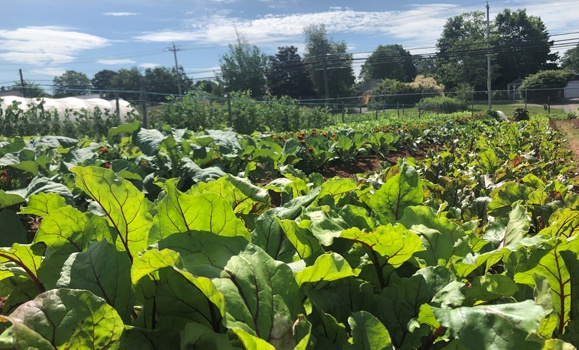 The Dalhousie Agricultural Campus Feed Nova Scotia Garden initiative is a true collaboration between Cultiv8 Sandbox and the Plant, Food, and Environmental Sciences department of the Faculty of Agriculture.
During COVID-19, food insecurity has become especially topical as many are faced with economic instability. Donations, which local food banks depend upon, can become less reliable while job scarcity can tighten budgets and put pressure on those in need.
It was with this in mind, as well as an opportunity to generate employment for agriculture students, that Dal's Cultiv8 Innovation Sandbox sparked an idea.
"We had an opportunity to do something great during a difficult time," said Cultiv8 Manager Jason Grant. "We managed to deploy a lean Field-to-Fork pathway from the garden to the consumer by way of low-cost networking and partnerships and we are linking our community together in this time of need."
To innovate is to improve upon something for which there is a need.
"The need is obvious; it doesn't have to be complicated - we developed a plan and put it into action. The very nature of the garden is such that we are always finding ways to improve - to gain efficiencies - more output for less energy."
The Field-to-Fork pathway involves a few community partners. Paul from Sobeys, Prince Street, has been saving the waxed produce boxes for containment and delivery.
"This is a crucial step in the low-cost model we are functioning within - these waxed boxes contain the vegetables and help retain some moisture without turning the boxes into a soggy mess - and they are of considerable cost if we were to purchase instead of depending on this donation from Sobeys."
John, the first student employee on site this summer, stepped-up to push the envelope and take some pressure off Jason and Mike Main. Mike has been a positive driving-force in the implementation of this initiative.
"Service to our community, especially in this time of need, is important," says Main, "and this initiative benefits our online course experience this fall as we will compile video and photo collections of relevant material...and it doesn't hurt to be outside, in the garden!"
Creighton Miller does regular pick-up for and delivery to the Colchester Food Bank on a cost-recovery basis. Creighton is very accommodating of the unpredictable harvest schedule of the garden and provides a solution for the delivery piece of the initiative.
The Colchester Food Bank is the delivery point for the produce where 500 – 600 clients are supported monthly.
The Food Bank has partitioned-off a small room for client food pick-up.  It separates the entrance from the main food-organizing room, provides security and a bit of privacy, as only one client is permitted at a time.  Clients are required, in accordance with the latest provincial laws, to don masks; if without, the Food Bank provides them as well as an exceptional assortment of offerings.
Susan, a regular client of the Colchester Community Food Bank, says, "Fresh veggies are good, especially when you have a family to support and you can't eat processed foods."
As summer draws to a close and garden yields dwindle, food security issues remain.  
Vera Faye Smith, on the Board of Directors for the Colchester Community Food Bank says that fresh food makes up almost half of the Food Bank's offerings while in season, that long-lasting vegetables grow in popularity into the fall, and if there were green vegetables available after the growing season, they would indeed be in very high demand.
With this in mind, Dalhousie's Agricultural Campus 'Field to Fork' food bank initiative is allocating resources to continue donations into the Autumn, with the intention of applying season extension techniques via field- and greenhouse vegetable production.
Jason is excited about the opportunities and partnerships which may emerge from this challenge.
"The need for food security is obvious and time is of the essence," he said.  "We have opportunities for students, staff and researchers to create positive change with regard to community need."
Dr. Gefu Wang-Pruski, Chair of the Plant, Food, and Environmental Sciences Department is excited about the future of the Demonstration Garden site.
"We have many great people on this campus, people who are change-makers," she said. "I am thrilled to support this Field-to-Fork initiative.  With increased focus on accessible, intensive horticulture, the sky's the limit when it comes to tackling food security in Nova Scotia and beyond."
The plan is to turn this short-term initiative into a much larger project, Cultiv8 GRO (Growing Real Opportunities), an applied model which finds synergies across disciplines, community and industry.
"Horticulture is an authentic way for people to connect," added Grant, "Combining traditional knowledge and experience with practical experimentation in a truly collaborative setting is where and when the magic happens."
Over the short term, the intention is to continue to provide food to the Colchester Community Food Bank into the fall.  Utilizing season extension techniques, it is hoped there will be vegetables into November with an eye to getting an early start to the next season in late winter 2021.
"Jason has students excited about taking part in the existing extracurricular programming and it's working," said Dean David Gray.  "The next step is to develop a more dynamic initiative to grow a culture of innovation in a hands-on, visible, collaborative setting.  I think there is real potential here to contribute in a meaningful way."