News
»
Go to news main
Blue Skies Ahead
Posted by
stephanie rogers
on July 24, 2020 in
News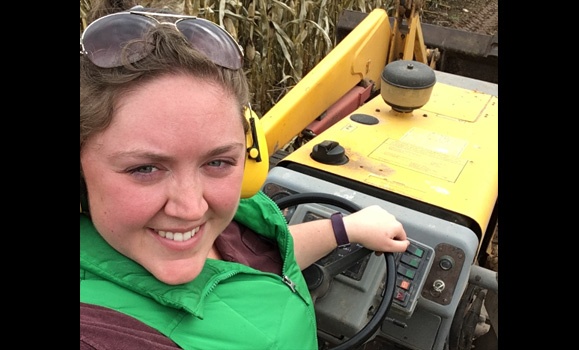 Blue skies ahead

The Coronavirus pandemic delivered its own set of challenges for local farmers. The added cool spring in the Maritimes, didn't help. There's no arguing that it's been a different growing season, but that hasn't stopped Perennia's (acting) Vegetable Specialist, Caitlin Congdon from offering sound advice, resources and even optimism to local vegetable producers.
"Normally I would be out in the fields and on farms, working directly with producers, so it's very strange to not be able to do that freely," says Caitlin. "But I am fortunate enough to be able to work from home. Meetings with growers have shifted to phone and video calls."
While that may not be ideal, it's working, and Caitlin is hopeful for a good season for those farmers.
"We are trying to look ahead to challenges that growers will face throughout the season due to the pandemic and connect them with the appropriate resources as well as providing the timely in-season information as usual."
Farmers have been dealt a lot of challenging hands over the past few years in terms of adverse weather events and now a global pandemic. Caitlin says there has certainly been some financial strain where yields haven't been as high as might be expected.
In terms of labour, the pandemic restrictions have made employment more challenging as temporary foreign workers arrived late, if at all, leading to hard decisions about how much crop could actually get into the ground. Then there were the added challenges when they did arrive – starting work later than usual and having to isolate upon arrival
"The effort to get these workers to the province has been amazing, and along with the local seasonal workforce, they will be working hard to make the most out of the season," says Caitlin. Which will be appreciated by consumers, who, Caitlin says, seem to be paying a little more attention to what is being produced in local areas. "I've noticed the public appreciating the diversity of products being offered in season. I hope that continues long after the pandemic!"
But farmers aren't out of the woods just yet. Caitlin suggests farmers may be faced with another hurdle come harvest.
"The amount of labour available for harvest, may be a limiting factor," she suggests. Which may mean that some perfectly good produce is left in the field if it can't be harvested in time. "Nova Scotia farmers are resilient and determined. I have no doubt that they will be doing everything to maintain the high quality of food production that they usually have," she says.
And while Caitlin has been doing her part, producers are doing their part, it's our turn to do our part, as consumers.
"Now it's up to the community to buy local," says Caitlin. "Choose local and seasonal products at the grocery store and check out your local farmers market if they're still operating. If you can order directly from a farm or a farm market, do that too!"
Despite the challenging start to the season, if consumers can be open and optimistic like Caitlin and our farmers, it could still be a good year.
"Nova Scotia farms produce so many great products and this is a unique opportunity for more people to experience them," she adds. "Take advantage of what can be found and grown in our own province!"