News
»
Go to news main
Retirement Notice: Tom Cole
Posted by
stephanie rogers
on May 29, 2020 in
News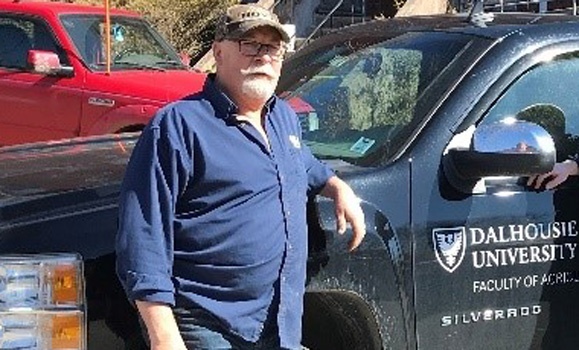 It is with both great happiness and sadness that I announce the retirement of Thomas Cole, Zone 5 Plumber / Steamfitter from the Dalhousie University Facilities Management team in Truro.

For those of you that don't know, Tom went back to school to pursue the plumbing trade as a mature student in his 30s while raising a young family.  Like Tom does, he put his head down managing multiple priorities making it through his plumbing program and has never looked back.

Tom started working on campus as a casual maintenance employee in residence in 1996 and worked there for two years before leaving NSAC.   As the people person he is, while working in residence he loved seeing all the students and was well respected by them. After Tom's departure he began to work for the Colchester Hospital for two years, returning to NSAC Physical Plant (FM) group as the Plumber in the summer of 2000.

Upon his return, Tom took on the role of campus plumber and in 2013, Dal Facilities Management requested Tom go back to school and write his red seal ticket for Pipe Fitting/Steam.  Tom did this at night and Saturdays while working full time and taking on the responsibility of being a team member on the NSAC/Dal merger negotiations.  Natalie Cole stated, "Tom took great pride in getting his second ticket and thanked Dal for supporting him while he did this".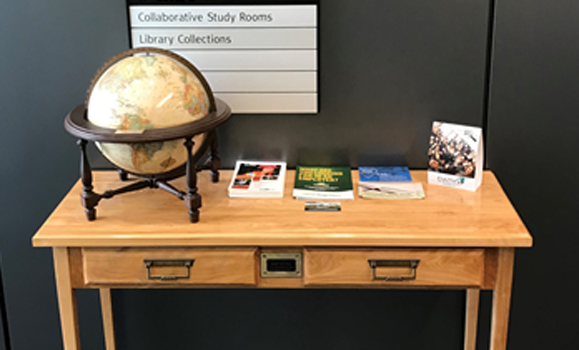 Tom's hobby is woodworking and you can see the product of his talent in the MacRae Library.   Tom salvaged some wood from the MacRae library renovation from the dumpster and made a beautiful sofa table which he donated back to the library in celebration of DAL 200 as well as, in memory of Debbi Levy Kay, a long time NSAC employee who passed.  It is proudly displayed at the entrance of the building as shown.  
Brett Nelson, Tom's teammate and partner in crime recently said "I will have some big shoes to fill. You've set such an example to us all with your dedication and hard work taking pride in everything you do on campus. When I first started work on campus you took the time to introduce me to everyone on campus and taught me how everything operated. Over the last six years I have learned many more things including a new trade. Getting to know you has been an absolute pleasure. You will be missed around here. Don't be a stranger. Now you'll have more time for yourself and you can enjoy all those things you've wanted to do whether it's listening/making music, hunting, fishing, wood working, fixing your Dodges, or just spending time with friends and family. Enjoy this new chapter of your life and we wish you all the best!"

Ed Bowers, Tom's teammate and brother-in-law had one simple quote "Now you can hang up your horns Ferd!  Enjoy your retirement."

Gordon Farrell, General Foreperson FM stated "my brother from another mother "is retiring from Dalhousie.  I have worked with Tom for the past 23 years; Tom is not only a great co-worker but also a great friend, family man with a fabulous personality.   Tom will be greatly missed around campus from Joking around, delivering exceptional quality of service and his overall knowledge he brought to the team.  I wish him a well-deserved retirement and the best in his future endeavors.  

Jason Penney, Operations Supervisors stated that "Tom is one of a kind".  Tom rolls up his sleeves and is very passionate at everything he does.  When Tom takes on any job, quality is number one, only second to the compassion and commitment he shows his team.  Tom will take any chance to teach a man to fish so that one day he can fish for him/herself.  Over the past several years Tom has made my role much easier by sharing his vast wisdom, making me get in the trenches to learn and providing candid feedback when needed.  Tom, I wish you every day of happiness in your retirement, get out and enjoy the outdoors, enjoy time with family, put those feet up and relax.  You earned every minute of it."

Due to COVID  19 restrictions, a celebratory reception will be done at a later date including all of those who Tom has impacted over the years.

On Behalf of Facilities Management and all of Tom's AC team.   
Congratulations and Best Wishes!


Sincerely


Jason Penney
Operations Supervisor,
Facilities Management
Dalhousie University Agricultural Campus