News
»
Go to news main
Growing a career in agriculture
Posted by
stephanie rogers
on May 14, 2020 in
News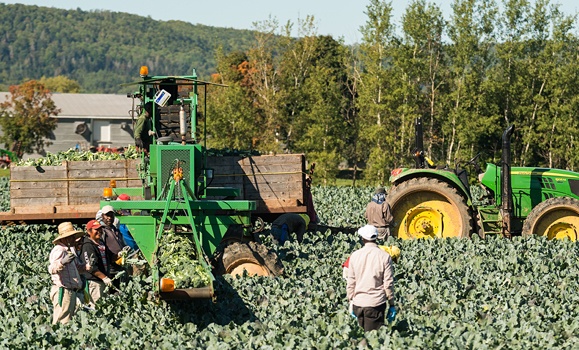 While food remains a constant in our lives, the way we produce it can and will change.  At no time has this been more evident than the spring of 2020.
Not only are producers taking extra precautions to ensure the health and safety of their workers, they are having to adapt their practices - adjusting processes and machinery – all in the interest of public health.
One challenge that will be magnified, although not new to farms, is the labour shortage. According to the 2017 Labour Market Information data collected by the Canadian Agricultural Human Resources Council, Nova Scotia agriculture employed over 6,500 workers – including 1,500 Temporary Foreign Workers – and still there was a labour gap of 250 jobs. This labour gap resulted in $33 million in lost sales.
As a result of the current pandemic, a significant labour gap is expected for 2020.
To help lessen the labour gap Nova Scotia farmers are experiencing this year, the Nova Scotia Federation of Agriculture (NSFA) and the Agriculture Sector program have launched a new job board.  This job board allows farmers and employers to submit job postings.  On-farm and agricultural related businesses employment opportunities are published, and potential employees can register to receive notifications of new postings in their area.
"Our hope is this job board and the promotion of job opportunities in agriculture will help inspire our fellow Nova Scotians to consider a career in agriculture. People employed in our industry play an essential role in feeding our communities," said Carolyn Van Den Heuvel, Director of Outreach and Member Relations for the NSFA.
Extended Learning at the Faculty of Agriculture has also pulled together resources to make it easier for potential employees to determine what jobs are available and what employees can expect when working on a farm. 
The videos provide an overview of Canadian agriculture.  Part One- Industry Trends & Labour Needs explore the key labour trends, types of farms hiring and labour shortages.  Part Two- Working on a Farm, dives into topics such as the skills required, benefits and challenges, links to nsagjobs.ca and safety training.
"As an Ag school we felt it was important to help students become aware of jobs available on farms as well as the realities of farm work," explained Extended Learning Manager Tracy Kittilsen.  "Many of the positions available are typically performed by well-trained, temporary foreign workers who come to our farms year after year. After we consulted with our partners in agriculture - we wanted to make sure that our students – and others looking for work – were aware of the impact of agriculture on our economy – both locally and nationally. We also wanted to make sure that people applying for jobs know what they are getting into – long days, hard work and knowing that you are contributing to something so much bigger – feeding our communities."
The job bank currently has over 400 job opportunities on farms across the province and commodities. Some of the job positions include farm labourers, equipment operators, fruit and vegetable pickers, just to name a few!
Getting a foot in the door (or on the field!) can lead to a vast array of career opportunities in the agriculture industry. Farmer, equipment operator, mechanic, truck driver, researcher, processor, financial lender, government – the possibilities are endless.
To learn more, apply to jobs, register as an employee or to post your own job openings please visit: nsagjobs.ca!  To access video resources please visit dal.ca/exl