News
»
Go to news main
Why Agriculture?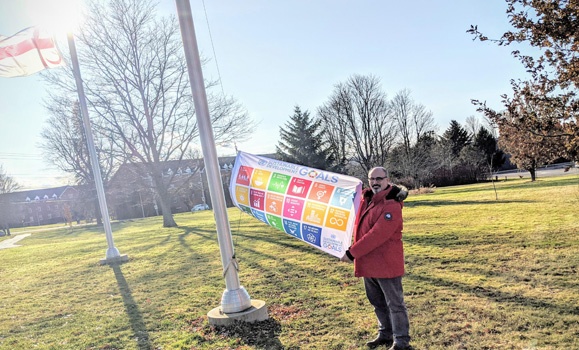 What is your "Why Agriculture?"  That is the question the Faculty of Agriculture is asking as it launches its 2020 Strategic Plan this week.
Aligned with the United Nations Sustainable Development goals, the Faculty is committing its human and physical resources to addressing the significant challenges to global and local sustainability, food security and health and well-being in the rapidly changing landscape of the agriculture sector.
"Agriculture in the 21st century faces multiple challenges," explained Dean Gray "Feeding a world population of 9.1 billion people will require raising overall food production while also focusing on reducing food waste and insecurity, increasing efficiency of production using innovative technologies and leveraging cutting-edge research," he said. "Poverty, food insecurity both locally and globally, malnutrition and movement of populations from rural to urban centres will also feature prominently."
The UN Sustainable Development Goals are a collection of 17 global goals designed to act as a blueprint to achieve a better and more sustainable future and are intended to be achieved by the year 2030.
Entitled "Why Agriculture?" the five-year plan will also engage youth in the solutions to these global challenges. Along with students on the Agricultural Campus,  4-H senior members from across Canada will be participating in a Pitch Perfect workshop on the UN's Sustainable Development goals during the national 4-H Members Forum December 2nd -4th in Calgary sponsored by the Faculty of Agriculture.  Through experiential learning and workshops, members will pitch to a panel of judges what they believe to be the most important of the 17 goals.
"Agriculture has a key role to play in the implementation of a One Health approach to the challenges facing the industry," explained Dean David Gray.  "The One Health vision is a collaborative multi-disciplinary approach to safeguarding human and animal health, reducing disease threats and ensuring a safe food supply through effective and responsible management of natural resources.  We cannot achieve this without engaging with our students and other future leaders in this sector."
To learn more about the Faculty's five-year plan visit dal.ca/whyagriculture