News
»
Go to news main
When you know, you know
Posted by
stephanie rogers
on November 15, 2019 in
News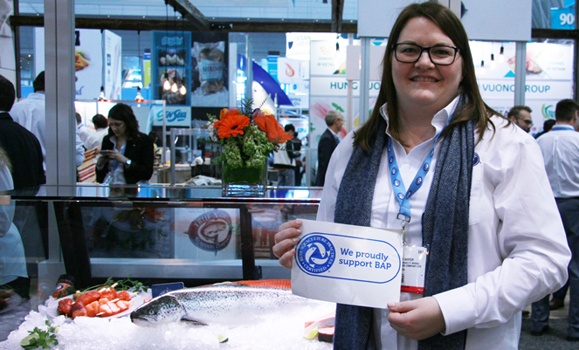 In 1998, Jennifer Wiper (Class of '02) eagerly began her studies in pre-veterinary medicine at the Nova Scotia Agricultural College. Fast forward to today, Jennifer is thriving in her career in aquaculture.
So what prompted the switch from a career as a veterinarian to a career in aquaculture?
"That's a bit of a funny story," Jennifer smiles.
Growing up in Little Burnt Bay, a small town with a population of less than 500 in Central Newfoundland, Jennifer admits that she perhaps she didn't have quite the same farming background as some of her fellow Dal AC classmates. Her family operated a small hobby farm, and growing up, they always had a few animals and crops. It was her experience with animals that drove her to pursue veterinary medicine at Dal AC. The thought of studying aquaculture had not ever crossed her mind.
"I had never heard of aquaculture or fish farming, until I attended the AC," Jennifer admits.
Shortly into her first year studying veterinary medicine, things changed for Jennifer. Coming from a small-scale farm, simple strategies like crop rotation and soil science, requirements for the pre-vet and animal science programs, were foreign to her. Sitting in her room in residence one evening in her first year, Jennifer overheard some third-year students discussing fish anatomy.
"I was no expert, but through my years of recreational fishing and helping my dad gut and fillet cod fish, I knew a little anatomy," Jennifer laughs. "I started to talk with them and became really interested in what they were talking about and enjoyed that I could relate to what they were talking about and even more so that I understood it."
Jennifer walked out of the building that day and headed straight to the administration office to change her program.
Today, Jennifer works as the Manager, Compliance and Certification for Cooke Aquaculture, a leader in the global seafood industry who works closely with communities to produce high quality seafood for their customers. Jennifer's role with Cooke Aquaculture is to manage their third-party certification programs for Cooke's North American operations.
"When I talk about third party certification, I mean standards such as Best Aquaculture Practices to which we are four-star certified, which means our hatcheries, marine farms, feed mills, and processing plants are certified," Jennifer explains. "I lead a small team which conducts internal audits, training and procedure development to ensure that everyone is doing the work that they need to do to not only meet our regulatory requirements, but meet additional requirements that we are certified."
Jennifer's involvement in aquaculture doesn't stop with her day job at Cooke Aquaculture though. She is involved with many national aquaculture organizations. She sits as a board member of the Aquaculture Association of Canada, a technical committee member for the Canadian Aquaculture Industry Alliance, a member of the Salmon Farm Standard Technical Committee for Best Aquaculture Practices, and much more.
"One of the biggest issues with marine farming is that people can't see the cows grazing, horses galloping and that scenic red barn in the background," Jennifer explains. "Marine farming happens underwater and for people not in the industry, it can be difficult for them to understand everything that happens. I am especially passionate about helping people to understand what happens on a fish farm."
Reflecting on her time at the AC and her switch to studies in aquaculture, Jennifer has no doubt that her decision was the right choice.
"Aquaculture isn't just about being on the farms and feeding the fish, there are so many varied careers within the industry or those associated with supporting the industry," she explains. "With so many different species under the Cooke banner and various operational locations, I get to interact with a multitude of people, farming and fishing practices, learning new things daily. It's never redundant and never slow!"
 "I knew from the day that I learned about aquaculture that I wanted to be involved," Jennifer smiles. "I have been involved and absolutely loving it since I graduated in 2002."