News
»
Go to news main
Rams Weekend Recap
Posted by
stephanie rogers
on October 21, 2019 in
News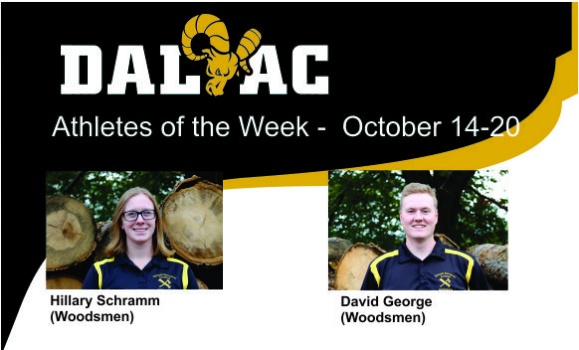 Woodsmen (Oct. 19 UNB Competition)

At this past weekend's UNB Woodsmen Competition the DAL AC Men's and Women's A teams defended their titles from last season placing first and bringing back home the two UNB trophies. The Women's B Team also had a strong showing placing third with the Men's B team fourth. Both the men's women's teams won by over 200 points starting the season on a very strong note. Coach Larkin was "Very happy and proud" of the Dal AC athletes. "They performed very well and conducted themselves with great professionalism."

Below is a list of all the events DAL AC won:

Women's Single Buck
Men's Single Buck
Women's Super Swede
Men's Super Swede
Women's Grand Prairie Accuracy Cut
Men's Grand Prairie Accuracy Cut
Women's Axe Throw
Men's Water Boil
Women's Quarter Split
Women's Underhand
Men's Underhand
Women's Standing Block Chop
Women's Pulp Toss
Men's Pulp Toss
Women's Decking
Men's Decking
Men's Crosscut
Women's Team Swede
Men's Team Swede

Cross Country: Oct. 19 MSVU Meet

The DAL – AC Rams competed this weekend in the 3rd race of the season, hosted by MSVU in Point Pleasant Park, Halifax.  A very technical course, with varied surfaces and obstacles, the Rams took it easy so to avoid any unwanted injuries since the championships are a mere two weeks away.  Kim Conrad came in first for the DalAC Women, 8th place overall.  She was followed by Chloe Toombs, 9th place, and then Elise Lawrence, who had special spectators from across the Atlantic Ocean.  On the men's side, Kieran Thornell continued to be a force, running in second place just 2 seconds behind the MSVU first place runner.  He was followed by Ranthom Ndizihiwe, who is consistently moving up the ranks and ran 7th overall.  The women's team finished 4th, and the men's team finished 2nd overall.  In 2 weeks the team will travel to PEI for the ACAA championships, where anything is possible.   

Equestrian – Oct. 20 - Acadia Show

Team Dal AC finished another strong showing in the Atlantic Intercollegiate Equestrian League on a beautiful sunny day down in Aylesford. While they were just shy of bringing home a team placing ribbon, the high point rider and reserve high point rider of the day were both from Dal AC!


High point rider of the day : Robyn Gillighan
Reserve high point rider of the day : Chloe Foye

The team also brought home the "Most Team Spirit" award for showing the utmost respect and support for their teammates.  "Toes up, heels down, Rams are ready to rock this round!"

Individual placings

Open Over Fences: Robyn Gillighan 1st place!
Open  Under Saddle: Robyn Gillighan 1st place!
Intermediate Over Fences: Emily O'Leary 1st Place!
Intermediate Over Fences: Ziel Jones 7th place   
Intermediate  Under Saddle: Izzy Harrington 7th place
Intermediate Under Saddle: Ziel Jones 8th place
Novice Over Fences: Chloe Foye 2nd place
Novice Over fences : Eve Godin 4th place
Novice Under saddle : Chloe Foye 1st place!
Entry Over Fences: Bridget Kenny 4th place
Entry Over Fences: Cailin Lake 5th place
Entry Under Saddle : Cailin Lake 6th place
Entry Under Saddle : Bridget Kenny 8th place
Wall Trot Canter : Laura Gauthier 4th place
Wall Trot Canter : Taygan Fancy 6th place
Wall Trot Canter : Julianna Jones 7th place

Coach Sarah Fifield appointed the DAL AC 'rider of the show' to Emily O'Leary for being a proven consistent superstar! She placed first in her class yet again and was very humbly shocked about it. She rode 'Berlin,' a rather challenging horse that was almost pulled from competition after warm up for 'naughty' behaviour. Emily, however, made her jump around the course with a consistent pace and flawless execution of the obstacles. Great ride Emily!

Men's Soccer

Oct. 18 vs Crandall

A hard fought game with emotions running high ended in a thrilling 4-3 win for the RAMS giving them their second win on the season and solidifying 6th place in the league.

Oct. 19 vs Holland

For the team's final game of the season none expected the RAMS had the tall task of hosting the leagues number 1 team, Holland College. After losing their head coach Craig MacEachern to controversial call the night before (forced to sit out the following game as per league rules after being tossed for arguing the officials decision and sticking up for his team) DAL AC came out and left everything on the field. This was a game to remember with the boys earning a 3-3 tie stunning their opponents. The RAMS now enter the offseason with plenty of optimism of what lies ahead and a strong foundation to build on for 2020.

Women's Soccer

Oct. 18 vs Crandall

Dal AC was in control of this one from start to finish earning a 5-0 win and keeping their season alive for another day with a chance (albeit slim) of being in a tiebreaker for the 4th and final playoff spot.

Oct. 19 vs Holland

Still in contention for playoffs the RAMS gave everything they had against the top seeded Holland College team. The final score was 6-3 Holland, however, the girls fought right until the end scoring the final 2 goals of the game. The RAMS finished 6th overall just shy of 5th place.


Sian Rankin, playing in her last game for the RAMS scored again bringing her season total up to 9 and good for 3rd place in the league scoring race. In 4 years with Dal AC Sian has 43 goals and will once again (4th time overall) be an ACAA 1st Team All Star!

Women's Volleyball – Oct.19-20 MSVU/UKC Tip-Off Exhibition Tournament

It was an exciting weekend at the Tip-off pre season tournament held at MSVU and UKC.  Dal AC finished third out of seven with four wins against MSVU, UKC, USA and Holland and two losses against STU and MTA.  Overall it was a very positive start to our season and the girls should be very proud of their effort.

Tournament Standings
STU 5-1
MTA 5-1
DalAC 4-2
MSVU 3-3
Holland 3-3
UKC 1-5
USA 0-6


DAL AC Athletes of the Week

David George (Woodsmen) is this weeks Male Athlete of the Week. David dominated his events this past weekend in winning both the water boil and the underhand chop. His strong showing also helped Dal AC Men's A team win all 4 team events, and win the UNB competition.

Hillary Schramm (Woodsmen) is this weeks Female Athlete of the Week. Hillary was a force in her events this past weekend winning both the single buck and quarter split. Her strong showing set the tone for the DAL AC Women's A team who won 3 of 4 of the team events to win the UNB competition.