News
»
Go to news main
McDalBridge
Posted by
stephanie rogers
on September 16, 2019 in
News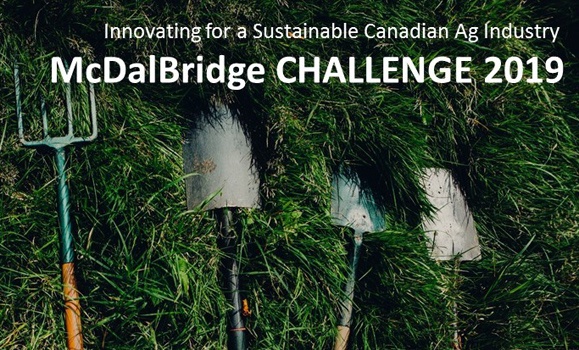 Agriculture remains one of the most significant industries of the economy today.   It is agriculture that will help feed the world; agriculture that will have a significant impact on climate change and agriculture that will ensure clean water and a sustainable environment for the future.
The key to this success is innovation.  To develop a culture of innovation among students, a pilot agriculture event will be held at Lethbridge College September 19th – 23 with five students participating each from McGill University, Lethbridge College and Dal's Faculty of Agriculture.
Sponsored by Farm Credit Canada, this two-year pilot program aims to develop a national agricultural innovation design challenge by cultivating producer dialogue, engaging in collaborative team innovation and experiencing inspirational agricultural innovation.
"Modern 21st century Agriculture is a crucial global industry utilising cutting edge technologies and strategies to solve some of the most important challenges facing our planet," said Dean David Gray.  "It is essential that we give our students the opportunity to learn to think creatively and to innovate. These transferable skills will equip our graduates to help make a difference."
McDalBridge unites post-secondary agricultural institutions across the county where students can practice transferable problem-solving skills.  Students will experience innovation as it exists in Alberta around agriculture and food and will focus on the power of building a network with people across the nation.
"The five student participants who are traveling to this fantastic opportunity have been actively involved in Cultiv8 programming," explained Cultiv8 Manager Jason Grant.   "This will add to their capabilities in creative thinking, human-centred approaches to problem-solving, collaboration and being agile.  These are super in-demand skills for the 21st century workforce and I want to make sure these types of students can experience opportunities for further growth."
The event will culminate in a weekend-long design challenge around a theme in agriculture.
"Our goal is to annually unite select Ag students from all post-secondary institutions in the nation toward building a more sustainable future," added Jason.  "We are faced with big problems and we aren't going to solve them in isolation.  This kind of event fires-up students through inspiration, connection and exploration."   
For more information contact Jason.grant@dal.ca and follow along on twitter and Facebook
Twitter @McDalbridge
FB @dalagriculture