News
»
Go to news main
From the Ice to the Field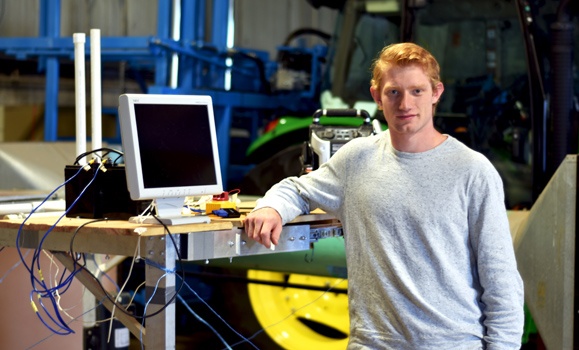 The 20-year-old Truro Bearcat from Brookfield, N.S spent his off-ice time a little differently this past summer.
A second-year Engineering student and recipient of the Donald E. Clark Memorial Scholarship at the Faculty of Agriculture, Luke MacMillan was awarded an undergraduate student research award valued at $4500.  The award, for a 16-week period over the summer, is intended to stimulate an interest in research in the natural sciences or engineering as well as encourage students to pursue graduate studies or research related careers.   
"These prestigious awards allow our students to contribute to national research programs that will ultimately impact the industry in the areas of food, water and the environment," explained Dean David Gray.
The students are supervised by Natural Sciences Engineering Research Council grant holders who provide the student with direction, facilities and resources for the research project.
"I spent my summer working for Dr. Young K. Chang in the Engineering Department focusing on biosystems automation and robotics," explained Luke.
Luke was responsible for two main projects; developing an unmanned ground vehicle and a short-range radar system.
"The unmanned ground vehicle is intended to travel through fields and gather crop data to detect pests or diseases. We visited both potato and strawberry fields with the machine this summer to collect data," he added.
Luke, who will complete his diploma program in engineering this year intends to complete his degree in civil engineering in Halifax.
"The second project I worked on was a short-range radar system to detect objects of different densities. The idea was to use it to detect molt stages in lobster," he added.
"I was extremely happy to work with Luke as I was so deeply impressed with not only his great research output but also his preparation and planning with minimal supervision," said Dr. Chang, Bio-systems Automation & Robotics Research Program ."As an engineering/integrated environmental management student coming from an agricultural background, it makes this research involving both technology and crops very relatable for him."
Agricultural field inspection requires lots of man power, however it is not easy to manage due to the declining agricultural work force in Canada. This kind of non-destructive and autonomous field inspection will help the future of Canadian agriculture.
"It was a very positive experience to work alongside a faculty member this summer, especially when you have taken a class they have taught. It's really cool to be able to apply what you have learned to more in-depth projects and get more hands on experience," said Luke.