News
»
Go to news main
PhD student honoured at Canadian Food Summit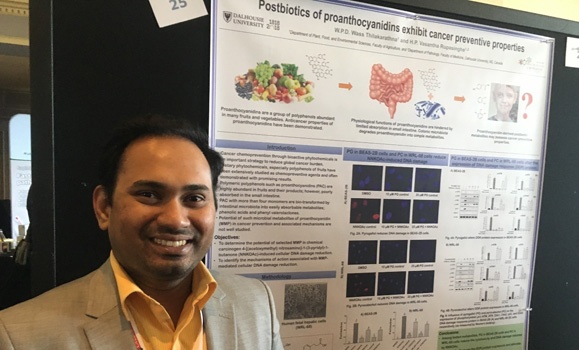 Wasitha Thilakarathna, a Ph.D. student in Agricultural Sciences at Dal AC, was the recipient of the first place award in the graduate student poster competition at the 2019 Canadian Food Summit.
With the theme of Sustainable Innovation, the 54th national conference of the Canadian Institute of Food Science and Technology (CIFST) was held during May 22-24, 2019 at the Westin Hotel of Halifax, NS. Wasitha's presentation titled, "Postbiotics of proanthocyanidins exhibit cancer preventive properties".
CIFST is the national association for food and beverage sector professionals. Its membership of approximately 1,000 individuals is comprised of scientists and technologists in industry, government and academia who are committed to advancing food science and technology. 

Wasitha Thilakarathna began his Ph.D. in Agricultural Sciences with the launch of the program at the Faculty of Agriculture in the Fall of 2018. He completed his M.Sc. degree in 2018 under the supervision of Dr. Vasantha Rupasinghe, Professor and Killam Chair in Functional Foods and Nutraceuticals.
With the promising findings of his M.Sc. thesis research that interaction of some bioactives present in plant food with the gut microbiome could help alleviate some cancers, Wasitha decided to continue his graduate studies toward a doctoral degree. When asked about his doctoral research, Wasitha said that he is working on developing a "synbiotic' functional food product and planning to test it using an experimental animal model of carcinogen-induced cancer.
His research is supported by the Dr. David Crowe graduate scholarship awarded by the Faculty of Agriculture and the NSERC Discovery Grant of Dr. Rupasinghe.
"Proanthocyanidins, also known as condensed tannins, are the most abundant polyphenols in the North American diet. We are attempting to discover the role of these plant food dietary constituents on the prevention of cancer," said Wasitha's academic supervisor, Dr. Rupasinghe. "In the past decade, we have begun to understand the new bioactive molecules generated by our gut microbiota when they are exposed to some indigestible dietary constituents such as condensed tannins."
"Contributing to this fundamental knowledge is rewarding and their applications to the food industry are also very fascinating!" he further explained.
Wasitha's advisory committee consists of Dr. Vasantha Rupasinghe (Supervisor, Department of Plant, Food, and Environmental Sciences, Dal-AC), Dr. Graham Dellaire (Department of Pathology) and Dr. Morgan Langille (Department of Pharmacology).
Wasitha was a trainee of the Cancer Research Training Program of the Beatrice Hunter Cancer Research Institute (BHCRI), with funds provided by the Saunders-Matthey Award for Cancer Prevention Research.