News
»
Go to news main
Shining Stars in Agriculture ‑Meredith (Leier) Vair
Posted by
Stephanie Rogers
on May 21, 2019 in
News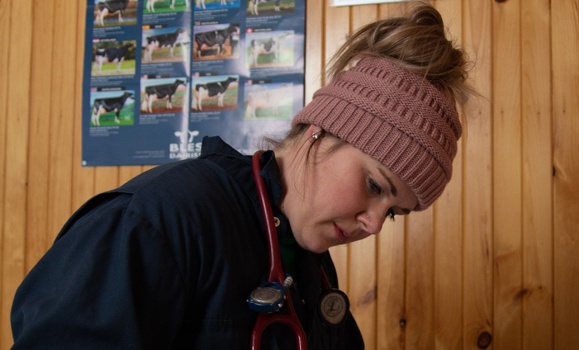 We recently chatted with several women, working in a variety of roles in agriculture. We asked these women the same questions, learning about their experiences and opinions as they contribute to the industry.
The Importance: Agriculture is a huge industry, and is closely connected to so many aspects of everyday life. Women are becoming involved with more and more industries that were traditionally male dominated (and men are equally filling more jobs more traditionally associated as a female occupation), and agriculture should be no exception. It is an ever-growing and exciting industry, that has many opportunities worldwide, so women should be, and are, seizing these opportunities. 
Inspiration: I have had many role models in the veterinary field- both male and female- since making the decision that I wanted to be a veterinarian when I was little. They inspired me to attend the AC, and pursue veterinary medicine. A female veterinarian at my clinic I currently work at is very involved with the dairy industry, and became a huge inspiration for me after visiting the clinic for a few weeks of my final year of veterinary college. Now that I am a mom, my daughter is a huge inspiration, as I want to instil a love of learning in her, and the knowledge that she can accomplish anything if she works hard for it. 
Misconception: I think the biggest misconception may be that women are not involved much in agriculture.  Traditionally, I think agriculture has been seen as more of a male dominated field, but over the last several years, more and more women are becoming involved in all aspects, and are just as capable and passionate about it as men. I have several female dairy producers, who either own the farm, and are the main manager, or run the farm alongside their partner, and have a very successful business. I work in a veterinary practice that has 13 large animal vets- 7 of which are female. I also work alongside females in a leading role in other areas of agriculture, such as animal nutrition, cropping, farm equipment, food science and research, and agricultural money lending. I think there still are still some misconceptions about abilities- But there are many different ways of completing the same tasks, so if a woman- or a man-isn't strong enough to do something, there is another technique they can use to accomplish it and achieve the same outcome. 
Advice:  Go for it! Agriculture is such a hugely diverse industry, there really is a job to suit any interest, and is continually improving and expanding across many different fields. I love working in the agriculture industry- despite it being so large, it truly is like a big family, with the amount of connections you are able to make.