News
»
Go to news main
Cultiv8 ‑ A Year in Review
Posted by
Stephanie Rogers
on March 29, 2019 in
News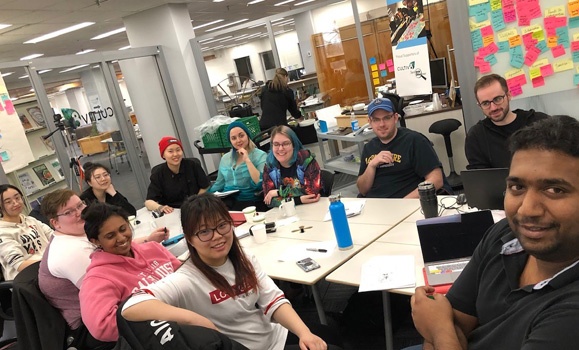 By Jason Grant

Cultiv8 Discover  
Winter 2019's Sandbox Discover program was filled with activity, creativity, fun, enthusiasm and experimentation! Eleven students of diverse disciplines, backgrounds, interests and ages collaborated to unroll a fantastic Introduction to Human Centred Design.

In response to feedback from last semester's Discover pilot, we pivoted and reduced the once-per-week class-time to 2.5 hours while adding a bit of homework to the mix. The challenge the class faced was introduced from the beginning of the seven week program, rather than in the final weekend challenge and this deepened the learning and impact the students experienced.
This semester's challenge was around growing the Cultiv8 student community. Discover students conducted interviews and surveys from across our student population to uncover their needs, barriers, commonalities and differences. Five different personas (or representatives of the student population) emerged from the data.
Ideas were generated to address each persona's needs and then those ideas were tested, via presentation, against a panel of other students, staff and faculty.
The Weekend Design Challenge culminated with presentations which showed a breadth of low-to-medium fidelity prototypes which the students rolled-out in succession for an impactful display of comprehensive knowledge on the subject. The program ended after a round of feedback from the audience.
This semester's cohort of Discover students have attained practical toolkits to approach problem-solving from different, creative perspectives. They have developed unique appreciations for their student population, they have a new network of contacts from within the cohort and together they reached a new level of collaboration after working really hard for 15 hours straight on a Saturday!!! The dedication they displayed on this journey was awesome.
Thanks to all students, staff and faculty for the time contributed to this experience. And to this group of Discover students, congratulations on jobs well done everybody and thank you for the experience!
Cultiv8 Validate in Review
Four students from last semester's Discover pilot embarked on a new pilot program, Validate. Validate is a hybridized program which is the next step in innovation; testing problem/solution fit. Students apply the
Human Centred Design skills learned in Discover to a challenge of their own choosing. Halfway through the program, they merge into the Lean Canvas; a visual one-page tool which enables the user to begin to
understand if the solutions they have designed are feasible.
Two projects were developed from unique perspectives; one is toward the creation of a market garden set in a small Acadian community in rural Nova Scotia and the other focused on searching for opportunity in urban farming.
This is an exciting next step for Cultiv8 and the opportunities which have emerged from the Validate pilot will carry through into the summer semester with a student internship and into the fall with further exploration into the development of the market garden as both a learning tool and a showcase model.
Thanks to each of you for your participation in Cultiv8, for involving yourselves in the development of new opportunities for the students who come after you, for without you, this prototype would not exist. And while two of our Validate students are returning to the Netherlands, I must say that our experiences are richer for your time at the AC; most excellent wishes for the future!
Community Involvement

Cultiv8 teamed up with some awesome people to brainstorm the development of the second floor of the Truro Farmers Market. The evening included a diverse cross-section of collaboration: new and senior

Cultiv8 students, professors and teachers from the AC, Truro Farmers' Market management and Board, as well as the Truro and Colchester Partnership for Economic Prosperity. A great start to a conversation which is much needed, a great start to a positive, we-can-do-anything collaborative approach to problem-solving and an encouraging platform from which to integrate our students into the social fabric of our greater
community. Thank you everyone for your time and dedication to this undertaking!