News
»
Go to news main
Dal AC Judging Team
Posted by
Stephanie Rogers
on March 1, 2019 in
News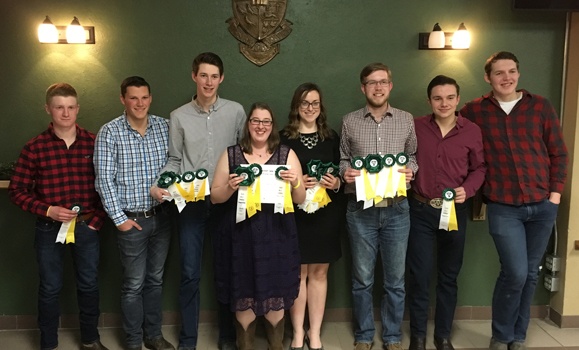 The Dalhousie Faculty of Agriculture Judging Team was well represented by eight members who travelled to Montreal for the 69th MacDonald Intercollegiate Judging Competition on February 2 held at the MacDonald Campus of McGill University.
There was a total of 19 collegiate and 4-H teams competing consisting of 76 competitors.  The collegiate competitors were from the Atlantic Veterinary College, Cégep de Sherbrooke, McGill University, University of Guelph, Université Laval, and the University of Alberta.
The competition consisted of crop and livestock categories with crop classes of: Soybeans, Soil ID, Honey, Silage, Livestock Photography, Wheat Sheaves, and Implement ID.  The livestock portion consisted of: Beef, Dairy Goats, Dairy Cows, Sheep, Chicken Eggs, Meat Cut ID, and Bird ID. With five out of the eight members being new to the school as well as the judging team, they accomplished several feats in many classes both individually and collectively.
Thank you to the MacDonald Campus of McGill University for hosting and organizing this competition. It was a great event to kick off the judging season.  Next up for the Dal AC judging team is preparing for our home competition of the Maritime Intercollegiate Judging Competition (MIJC) on March 2!
Competition results are as follows:
1st Dairy Individual – Jeremy Sutherland
1st Honey Individual – Julia Vosman
1st Sheep Individual – Benjamin Sargent
2nd Beef Individual – Robert Larsen
2nd Crops Individual – Andrew Manning
2nd Goat Individual – Ashley Eason
3rd Beef Individual – Andrew Manning
3rd Goat Individual – Julia Vosman
3rd Dairy Individual – Robert Larsen
3rd Overall Individual Oral Reasons – Julia Vosman
5th Overall Individual – Julia Vosman
1st Meat Cut ID Team – Dal 2 (Andrew Manning, Robert Larsen, Ashley Eason, Julia Vosman)
2nd Overall Livestock Team – Dal 2
3rd Overall Team (3096 points) – Dal 2
12th Overall Team (2932 points) - Dal 1 (Jeremy Sutherland, Benjamin Sargent, Luke Fisher, Austin Versloot)