News
»
Go to news main
Partnership helping Rams stay healthy
Posted by
Stephanie Rogers
on December 12, 2018 in
News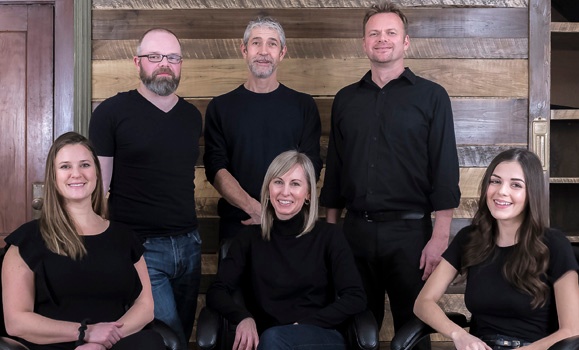 Athletes at the Dalhousie Agricultural Campus are being kept in tip-top condition thanks to a new agreement between Athletics and Legge Health Clinic.
The clinic, which has operated on Prince Street in Truro for the past 16-years, has opened a satellite sports therapy clinic at the Langille Athletic Centre and has been working with Rams athletes since September in an effort to keep the injury bug away.
"We are thrilled to have them on site," Judy Smith, the campus athletic director, said. "It's already proven to be a wonderful addition to the services available through Athletics. With the team of Dr's Linda and Murdo Ferguson , sports medicine specialists and Certified Athletic Therapist Nicole Johnston already in place, the Legge Clinic has completed the loop for the assessment and treatment of athletes, pre and post injury".
Patrick Legge, the head therapist and owner of the clinic, has been working with NSAC and Dalhousie AC for the past 20 years for events such as the national and conference championships hosted by the school, as well as other athletic matchups. Naturally the prospect of opening an on-site clinic came up in conversation between Legge and Smith and both sides jumped at the chance to further their partnership. Since opening, the clinic has expanded its services to the rest of the students and staff on campus, as well as the general public.
"I was excited to partner with him in the venture," Smith said of Legge. "The athletes have benefitted tremendously from the expertise and treatments available so conveniently on campus."  The pair met at the beginning of the school year and mapped out what type of services each team would need, and when, to help Legge and his staff tailor their approach for each roster.
"If we can determine that there's a flexibility issue, for example, in an athlete, then we can get started working on that with them before an injury happens," Legge said.
It also allows athletes to be seen almost immediately after an injury thanks to having a therapist on hand in the clinic each weekday. For a campus whose teams aren't typically blessed with many options from the bench, keeping players available for action is a massive advantage.
Legge carries an impressive resume in athletic therapy having worked with athletes at the 2010 Olympic Winter Games in Vancouver. He's also worked with other elite athletes from all over the world in several sports.
His experience has led him to believe a multi-disciplinary approach to treatment is much more beneficial to athletes, combining chiropractic services with massage and other treatments to give athletes the best possible chance to prevent and recover from injuries.
"One thing won't do it all," Legge said. "Each discipline will only take you so far but if you do them together as a team the effects are far greater."
The Team working at the Legge Clinic at the LAC includes:
Dr. Stephanie Millett – Naturopathic Medicine/Acupuncture
Jill Legge - RMT/Osteopath In Study
Savannah Cameron – RMT
Shane Richer – RMT
Dr. Michael McCoul – Chiropractor
Patrick Legge - RMT