News
»
Go to news main
Hands‑on Learning in Landscape Horticulture
Posted by
Stephanie Rogers
on October 23, 2018 in
News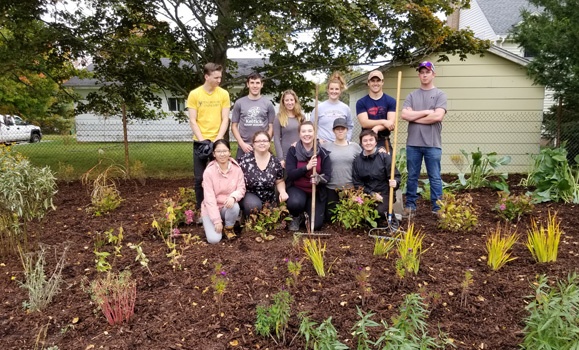 The HORT1003 Landscape Horticulture 1 class recently completed their Landscape Installation Project in the back corner entrance of Alumni Gardens near Vimy Rd.
This project is a major component of the lab section and allows the students to get hands-on experience in site evaluation, site preparation, planting, mulching and hardscaping a landscape.
The class is made of 12 students from a broad range of programs, such as Landscape Horticulture, Landscape Architecture and Plant Sciences.
The project was broken up over several labs through September and October and began with a site evaluation of the existing landscape, which included doing a soil sample of the site.

Students had to identify problems with the current landscape and discussion was held to how these problems could be addressed. The second phase was to start preparing the site. Students first weeded the area and then dug up and divided any herbaceous perennials that could be saved. Some of these perennials were later replanted in the landscape others were potted up and placed in the Grounds Maintenance nursery.
Once the bed was cleared of existing plant material students then added garden soil to the bed to amend the area before planting. The third phase of the project was to plant the garden bed with shrubs, herbaceous perennials and fall bulbs.
In addition to planting the landscape students also replaced the old existing path with a newer wider path that matches the rest of the landscape in Alumni Gardens.
In total there were 38 shrubs, 205 herbaceous perennials and 1100 fall bulbs planting in this landscape. Special thanks goes to the Ground Maintenance crew for all their help in setting up labs and assisting in some of the work throughout the project.