News
»
Go to news main
Inaugural Whale School Public Lecture Series
Posted by
Stephanie Rogers
on October 16, 2018 in
News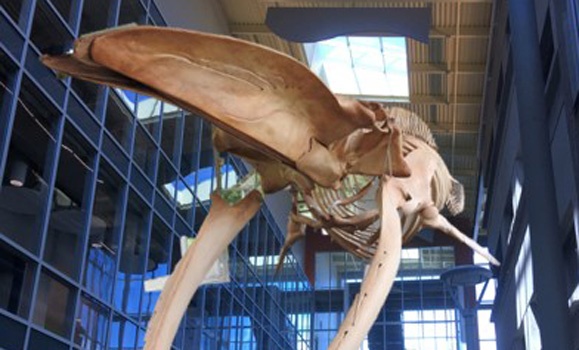 Whale School is an interdisciplinary platform focussed on developing knowledge and integrating skill sets serving arts and science university students and faculty, the public community and the arts in Nova Scotia. The focus of whale school is experiential learning around the recovery, restoration, display and interpretation of a female 18 m blue whale found stranded in 2015 on the Nova Scotia coast near Liverpool.
Since that time over 100 volunteers from the Halifax and Truro campuses of Dalhousie University, local community members and representatives of the Marine Animal Response Society and the Department of Fisheries and Oceans have worked collaboratively to conduct novel research in composting and preparation of the whale skeleton.
The next steps, involving restoration, articulation, display and interpretation of the blue whale will nucleate a community of people both inside and outside academia with related skills or the desire to learn new skills. Working together this group, sharing a common interest in marine conservation, will produce a stunning legacy: the first blue whale to be publicly exhibited in Nova Scotia. Supporting this interdisciplinary effort are a series of lectures by internationally recognised scientists, artisans, film makers and writers on the relationship between man and whale.   
The first public lecture will be held this Friday and will feature Dr Pierre-Yves Daoust, Wildlife Pathologist, Atlantic Veterinary College speaking on
The North Atlantic Right Whale Mortality Crisis: What veterinary pathology has taught us.
Dr Daoust is a distinguished wildlife veterinary pathologist based at the Atlantic Veterinary College, Charlottetown PEI, with a 30-year history of experience investigating hundreds of whale strandings. As one of the key pathologists to examine NARW stranding events in summer 2017 he has a unique perspective on the lives and deaths of these endangered whales, which he will share in the inauguration of the Whale School Public Lecture series.
7 – 8 PM, Friday October 19 2018
Location: Room 127, Goldberg Computer Science Building, 6050 University Avenue, Halifax NS
Limited seating
People interested in supporting or participating in Whale School are encouraged to contact the Founder, Dr Chris Harvey-Clark
charveyc@dal.ca 902 494 1270