News
»
Go to news main
New Face on Campus
Posted by
Stephanie Rogers
on August 28, 2018 in
News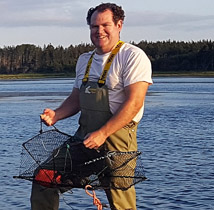 The Department of Animal Science and Aquaculture is pleased to welcome two new faces to the department.  Dr. Fraser Clark. Dr. Clark started as Assistant Professor, Bioveterinary Immunology on July 1, 2018. Dr. Adewole started as Assistant Professor and Industry Research Chair, Poultry on August 1, 2018.
Dr. Clark is a molecular immunologist working on a variety of animal species to examine the amazing diversity and pathogen targeting ability of innate immune molecules. He received his BSc from Dalhousie University (Biochemistry and Molecular Biology) in 2002, a MSc from Queen's University (Pathology and Molecular medicine) in 2005 and a PhD from the University of Prince Edward Island (Pathology and Microbiology) in 2014.
Dr. Clark's lab uses high-throughput sequencing and other biochemical techniques to answer comparative immunological and physiological questions in a variety of species including crustaceans and molluscs. In addition, his group is examining the host-pathogen-environment interactions between a variety of marine pathogens, pollutants and their hosts.
Dr. Clark is setting up his lab in the Haley Institute of Animal Sciences and Aquaculture and is currently looking for motivated graduate students with backgrounds in molecular biology, immunology and biochemistry. More information about Dr. Clark's current research can be found at Crustaceanhealth.ca.
Dr. Clark will be responsible for teaching the Bioveterinary Science Program, including immunology and epidemiology.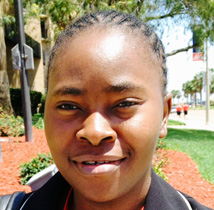 Dr. Deborah Adewole is originally from Nigeria, where she obtained a bachelor degree in Agriculture. Towards the fulfilment of her passion for animal agriculture, she moved to Winnipeg in 2009 for Masters and PhD degrees in Animal Science at the University of Manitoba, specialising in poultry and swine nutrition. Her graduate studies and post-doctoral program in Manitoba has offered her independent and collaborative research experience in feed ingredients evaluation, nutrition-gut health interactions, use of exogenous enzymes, protein and carbohydrate nutrition, and plant extracts in poultry nutrition. In addition, she has teaching prowess and mentoring experience in the field of Animal Science.
Dr. Adewole, in her capacity of Industry Research Chair, Poultry, she will be conducting industry-related research on 'alternatives to antibiotics in poultry' with the goal of sustainable chicken production with responsible use of antibiotics in the Atlantic region and in Canada as a whole.
Deborah's hobby includes reading books, having long walks with family and she volunteers alongside her husband in community development activities, teaching youths in their local church and with Christian student groups in Canadian Universities mentoring, counselling and giving seminars/talks on Christian morals, leadership, academic tutoring and career excellence. They have two kids, Daniel and Dara.
Please join us in welcoming Dr. Deborah Adewole and Dr. Fraser Clark to Dalhousie University and the Department of Animal Science and Aquaculture.