News
»
Go to news main
Extended Learning offers equine kinesiology course
Posted by
Stephanie Rogers
on June 11, 2018 in
News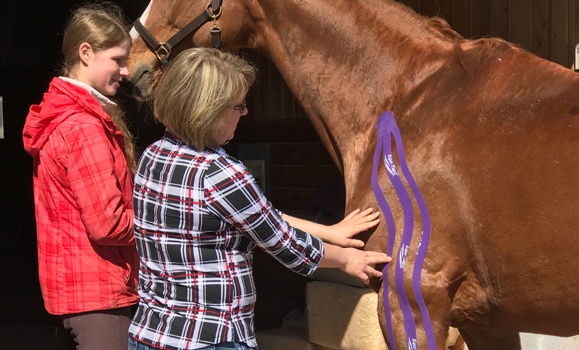 Ask any horse owner, rider, trainer, or coach and they'll tell you that their horse is more than just an animal. In most cases, the horse is considered an athlete and a partner and, like any athlete, will be treated to the highest quality of care. Dalhousie University Faculty of Agriculture's Extended Learning is pleased to offer an equine kinesiology taping course for those looking to learn more about how to keep their equine partners in top form.
The use of elastic kinesiology tape on horses is extremely beneficial to the wellbeing and performance of horses. The tape is used to help alleviate muscle fatigue and assist with recovery of those muscles. The tape has a sticky surface which adheres to the hair of the horse. This creates a lifting of the skin and allows an increase in circulation which can improve blood flow to that area and decrease pain. Certain taping applications can also be used to reduce swelling, release scar tissue, increase mobility and relieve tension in an area. Advanced techniques include stabilizing joints and proving tendon support. In fact, equine kinesiotaping has become such an important training tool that the Fédération Equestre Internationale (FEI), the organization which governs international equestrian competition, restricts the procedure to only be performed in the stable areas during competition as it is suspected to give equine athletes a competitive advantage.
The Equine Kinesiology course offered through Dal AC Extended Learning will teach participants the introduction and overview of the application and uses of kinesiology tape on their own horses.
Students participating in the equine kinesiology course can expect to learn to recognize when and where their own horses can be taped. The course will focus on training tape applications to help with the relaxation of specific muscle groups, such as the neck and lower back. It will also cover general sport specific applications that will benefit horses in training and in between shows.
"The overall goal for this course is for the students to understand the principles of elastic kinesiology taping, be comfortable and confident handling the tape and ensuing proper application of it to their own horses," explains Christa Veinotte, the instructor delivering the course.
Participants will learn through presentation, discussion, demonstration and hands-on practice. The course will be delivered over two full days, July 9 and 10 and will cover a variety of topics including the principles behind kinesiology taping, when and why the tape should be applied, equine superficial anatomy, how to correctly apply and remove tape and much more.
The course is open to horse owners, riders, trainers and coaches and requires those to have previous horse experience. Although open to all with experience with horses, the course is limited to 10 spots. Participants can register online at a cost of $560.
Over the past 26 years, Christa has become an equine rehabilitation specialist. Her career began studying at the former Nova Scotia Agricultural College (now Dalhousie University Faculty of Agriculture) in the pre-veterinary medicine program. From there she attended the Equine Technology course at the New Liskeard College of Agricultural Technology and completed a two year, 2,200 hour massage therapy diploma at D'arcy Lane Institute in London, Ontario. She has advanced training in Craniosacral and Lymphatic Drainage therapy and has been registered in three Canadian provinces. Christa is the first Canadian to obtain certification in kinesiology taping for horses and is the first certified taping instructor in Canada.
Along with her education and credentials, Christa has performed over 30,000 career treatments. Her clients include Olympic and World Cup horses. She was also a guest lecturer at NSAC, Assistant Instructor at the Canadian College of Natural Medicine and instructor and course developer at Eastern College. She is currently developing a series of manual lymph drainage courses for other health practitioners and is a published author in numerous magazines and newspapers.
With her extensive knowledge and background in equine health, Christa is proud to be able to offer this one of a kind course to horse owners in the Maritimes.
"This course is the first if its kind in North America," Christa explains. "To our knowledge, it is the only equine kinesiology taping course offered to horse owners, riders, coaches and trainers. All other courses are designed to instruct equine health care professionals like veterinarians, chiropractors, and massage therapists in more complex applications."
The idea to offer this type of course to those without equine health care certification or training came to Christa when dealing with her clients. It became apparent to her that there was demand from within the equine industry to learn more about equine kinesiology taping.
"As an equine rehabilitation professional and certified kinesiotaping instructor, it became very apparent that many of my clients were extremely interested in how the tape worked," Christa says. "They continuously asked questions about specific applications that I was doing on their horses."
The course that is offered through Dal AC Extended Learning is a very high level introductory course. Christa explains that while some taping applications can be taught to amateurs, some applications should be left to the professionals.
"While some techniques are quite complicated and should only be applied by professionals, there are many tapings that horse owners can safely apply to their own horses if taught correctly," she says. "It does not replace your veterinarian or other health care practitioner, but it gives the owners another valuable tool to use in caring for their own horses."
While the practice of equine kinesiotaping is still fairly new to the equine industry, it came as no surprise to Christa when kinesiotaping slowly emerged among equestrians.
"Human athletes have been using elastic training tape for years and so it was only a matter of time until it transferred to equestrian sports."