News
»
Go to news main
Melicious Chocolat
Posted by
Stephanie Rogers
on March 8, 2018 in
News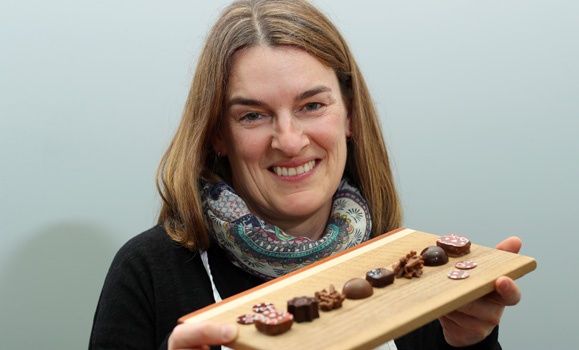 One could say that Mélanie Leclerc (Class of '04) has a bit of a sweet tooth- one that led her down the path of entrepreneurship. It was Mélanie's taste for high quality chocolate and her desire to do something different that led her to develop Mélicious Chocolat, a business venture she otherwise may not have pursued.
"The idea for Mélicious Chocolat came up quite a few years after completing my Master's degree at Dal AC," Mélanie explains. "I wanted to do something different."
Mélicious Chocolat is a small business based out of Mélanie's home in Truro that prides itself on being able to offer chocolate lovers a different chocolate experience. From smooth caramels to crispy pralines, Mélicious Chocolat proudly offers a variety of high-quality chocolate products using locally sourced ingredients whenever possible. Bonbons and truffles are handcrafted in small batches using the highest quality of ingredients. Flavoured centres are enrobed in premium French dark and milk chocolate, bringing to life the taste-buds of those who are lucky enough to try it.
"People seem to like my chocolate," Mélanie smiles. "I find it so rewarding to see people's faces when they bite into one of my chocolates and they really enjoy it."
Mélanie grew up just outside of Quebec City. At the age of 16, Mélanie began her first summer job working at a small artisan chocolate boutique. It was there that she developed a taste for high quality chocolate. Following her passion for decadent treats, she attended classes at the Chocolate Academy in Montreal, a teaching and training academy that offers professionals and artisans the opportunity to improve their skills working with chocolate, explore trends and techniques, and discover new recipes.
"The courses at the Chocolate Academy were one or two day courses," Mélanie explains, "I've taken six of them over the past few years. I learned about the chocolate crystalizing process, different techniques to temper chocolate as well as molding, framing, enrobing and decorating techniques. I learned how to make the centres, some of which I can reproduce in my kitchen, some I can't as they require ingredients or equipment I currently don't have."
While her time spent at the Chocolate Academy expanded her knowledge of chocolate, Mélanie also pursued a science degree at Université Laval in Quebec. It was after completing her Bachelor of Science in agriculture and plant science that Mélanie set her sights on Nova Scotia. After making the move to the East Coast, Mélanie enrolled in Dalhousie University's Faculty of Agriculture where she pursued a Master's degree in plant science, graduating in 2004.
"My first interest in coming to Nova Scotia was to work with seaweed and to improve my English," Mélanie explains. "Things didn't turn out exactly as I hoped but it was still a good experience."
While she didn't end up on the path she'd expected, Mélanie's time at Dal AC taught her the importance of critical thinking and problem solving. With those skills and many more, Mélanie now works as a Research Associate at Perennia, a government agency that works to help farmers, fishermen and food processors be prosperous and profitable.
Although Mélanie's position at Perennia is full time, she couldn't ignore her passion for creating quality chocolate. Wanting to be able to offer delicious specialty chocolates to her friends and family, Mélanie started Mélicious Chocolat after she completed her Master's degree. To build on her business skills, she has taken classes at the Community Business Development Corporation (CBDC) to expand her knowledge on basic business, accounting, marketing concepts, and more.
"I started to make chocolate for special occasions like Christmas, Valentine's Day, Easter, Mother's Day, and to sell to colleagues and friends," Mélanie explains. "It just kind of went from there."
While Mélicious Chocolat is still very small, Mélanie attends the Truro Farmers Market occasionally to sell her products. She also supplies chocolate to special events, most recently Dal AC's scholarship banquet last November.
"I've had my chocolates in Women's Day celebrations, weddings, and other special events," Mélanie says. "For Dal AC's Scholarship Banquet I prepared packages of two chocolates filled with flavoured centres- smooth caramels, creamy ganaches, crispy pralines and more."
Looking towards the future, Mélanie would like to create a space for Mélicious Chocolat that is solely dedicated to her chocolate production. While this is Mélanie's goal for the future of her business, she recognizes the challenges of operating such a small business. Expanding would require significant capital investment, which can be risky for a small business.
"I would love to have a space where I can create new recipes and work more efficiently," Mélanie says. "A lot of time goes into recipe and product development. I try different things, see what people buy and then I adjust. Right now the business is homebased and expansion would require significant capital investment. The challenge is to develop a realistic business model that could support the investments needed to take the business to the next level."
For now though, Mélanie will continue making chocolate, simply because it's what she loves to do.