News
»
Go to news main
Apuknajit Traditional Mi'kmaq February Feast: a feast for the mind and body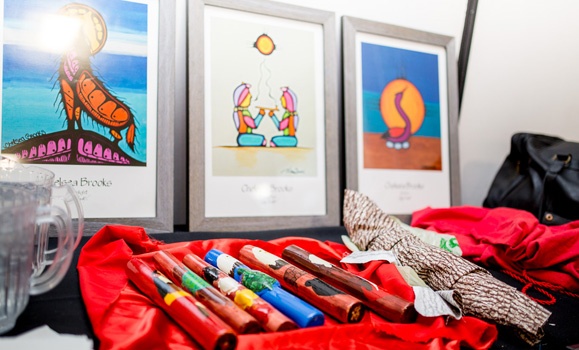 By Rebekah Bailey

The Apuknajit Mi'kmaq February Feast did more than feed the bodies of those in attendance. The event nourished the minds and hearts of participants.
Bringing International Development Week back home
We often think of development as something that needs to happen in other parts of the world. This International Development Week was focused on development in a Canadian context.
International Development Week at Dalhousie's Faculty of Agriculture usually focuses on development in the Global South, but this year the International Office took a different approach. The focus this year was on truth and reconciliation surrounding the historical mistreatment of indigenous groups in Canada.
"We typically focus on international development in areas like the Global South," said International Project Assistant Madalyn Nielsen, "however this year we decided to focus on development at a local level by educating our campus and community about Indigenous issues and culture."
This shift in focus was stimulated by a first-year student on campus who was passionate about bringing historical issues in Canada to light in an inclusive and non-judgmental setting. This student is Aiden Mesher, first-year animal science and pre-vet student. Mesher knew when he came to the Dalhousie Faculty of Agriculture that he wanted to do something to make an impact on campus.
As a Qalipu Mi'kmaq First Nations Band member and non-status Metis from Labrador, Aiden felt a strong connection to this subject. He decided to organize the Apuknajit Mi'kmaq February Feast to honour the unceded Mi'kmaq territory on which the AC stands and bring people together over an important aspect of Nova Scotian and Canadian history.   
"Where the AC is on unceded Mi'kmaq territory, I felt that having an event that brought people together to share in an aspect of the history of not only Nova Scotia, but Canada as well, was truly important especially as it has such close ties to this area," said Mesher of his motivation to organize the event.
A Lasting Impact: From Past to Future
The event began with a traditional smudging, which is a cleansing exercise to clear the heart, mind, ears and body. This set the tone for an inclusive learning environment for all those in attendance.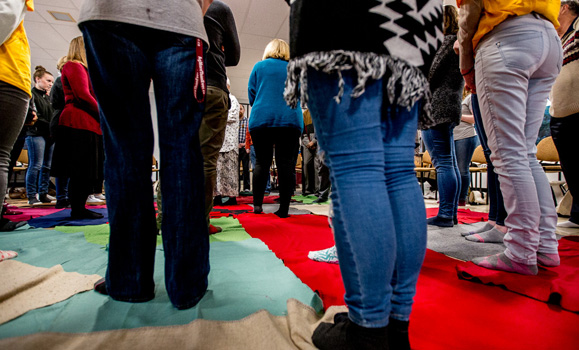 The blanket exercise, which is a tool used to create a verbal and visual story of the interactions between European settlers and Indigenous people in Canada was then started. This exercise is used across the continent as an education tool for Indigenous mistreatment. The blanket exercise is an interactive activity which shows the massive impact the European settlers had historically and continue to have, on Indigenous culture.
"Truth and reconciliation begins with dialogue around the true shared history in Canada between Indigenous and non-Indigenous groups," said Art Stevens, Manager for Indigenous Students at the Agricultural Campus.
Even though the negative impacts of colonisation on Indigenous communities across Canada is still evident today, there is hope for reconciliation. Native community members, such as Aiden Mesher, aim to educate and reconcile with non-Indigenous Canadians. The blanket exercise ultimately aims to have a lasting impact on participants to instill understanding and support between Indigenous and non-Indigenous communities.
To foster this environment of understanding, talking circles were held with Mi'kmaq Elders after the blanket exercise to allow participants to express any feelings or thoughts that the exercise brought up.
"My hope for this event was to allow people to experience what has happened to First Nations people here in Canada as part of a Truth and Reconciliation event," said Mesher. "I truly feel that we have made a difference in peoples' lives by allowing them to feel something that they may not have been able to before coming."
And now, we feast
The Elders closed off the serious part of the evening by ending the talking circles with a positive message. Although the events in the past cannot be changed, they can be acknowledged and the lessons we have learned can guide our actions moving forward
"As a Mi'kmaw person this event showed me that the past doesn't always have to be the future," said Cheyenne MacDonald, AC student. "It was beautiful how people from all backgrounds were able to come together and hear each other's truths."
Before moving on to the feast, the celebratory portion of the evening was kicked of with a drumming performance. Youth from the IRON TIDE drumming group of Millbrook First Nations band performed. The energy in the room was electric with the music and passion coming from the talented young drum group.
The Apuknajit Traditional Mi'kmaq February Feast is meant to celebrate getting through the hardest part of winter. Apuknajit, which is translated as "the spirit of winter," is a time for giving thanks and requesting continued safe passage until Spring.
"Mi'kmaq people traditionally give an offering of thanks for getting through the first part of Winter and request good fortune until Spring," added Stevens.
Bannock and stew were served for the feast and participants enjoyed discussing the evening's activities amongst themselves during the meal. At this mid-winter feast, more than just the bodies of participants were nourished; the minds and hearts of those in attendance were also made full.  
Focusing on local development during the Agricultural Campus' International Development Week may have been a first, but this was certainly not the last of this type of event on campus.
"In the future here on campus, I would love to organize more events similar to this one," says Mesher. "I hope to bring people together in safe and respectful manners and allow for everyone to feel welcome and accepted."