News
»
Go to news main
A Breath of Fresh Air
Posted by
Stephanie Rogers
on November 27, 2017 in
News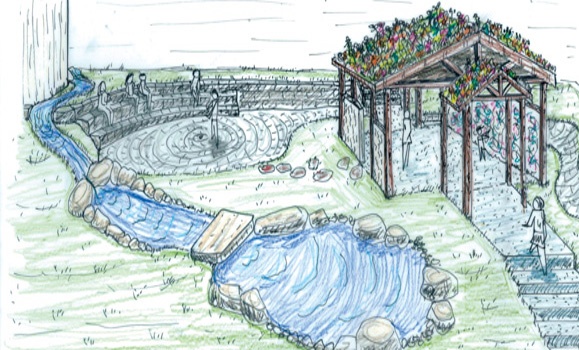 Tessa Macaulay took a few years in between high school and university to get some job experience, but always knew she wanted to go back to school. One of her jobs during that time was at a veterinarian's office working with animals. Around that time, she also discovered that her true passion was working with plants.
"I like to say that animals are my hobby but plants are my life," she laughs, adding "plants are so cool."
Now in the fourth year of the Horticulture program in Dalhousie's Faculty of Agriculture, Tessa is learning things like how to design gardens, and work with the landscape from an environmentally-safe perspective.
She is excited about a new outdoor classroom initiative that is being planned as a way to recognize Dalhousie's 200th anniversary.  It will also leave a lasting legacy on the Agricultural Campus for students.
The Outdoor Classroom is a tiered, outdoor teaching space for students from all disciplines, carved into the centre of campus and is featured in this year's Annual Appeal.

Located behind Collins Building, the Outdoor Classroom will include the construction of an alpine house, which will provide a specific and unique environment for the study of rare plants.  It will be a vibrant space where landscape architecture, engineering and horticulture students can learn, collaborate and get hands-on experience.
It will be a space where students can gather and collaborate and will provide many valuable and interdisciplinary learning opportunities for students, such as:

• Design of the building and landscape
• Construction and maintenance
• Material selection
• Plant habitat development
• Conservation of rare and endangered plants
"It will be such an asset to be able to show students these plants in an alpine house setting, even in winter. I cannot express fully what a unique opportunity and resource for our students the alpine house will be," said Karen Smith, senior instructor in the Department of PLant, Food and Environmental Sciences.   
Tessa will not only benefit from taking classes in the outdoor classroom, but she is also helping with the design of the structure. "It is great practice for me, in terms of working on a real-world project. It is giving me a good grounding on the practical side of the things I am learning in the classroom."
Tessa is thrilled with the prospect of taking hands-on learning to the next level. "In our profession, we will be working primarily outdoors. Not only will this classroom benefit us academically, it will give us a better perspective on what we're learning, and prepare us for our future careers."