News
»
Go to news main
Jack Johnson Agricultural Athletics Award
Posted by
Stephanie Rogers
on November 15, 2017 in
News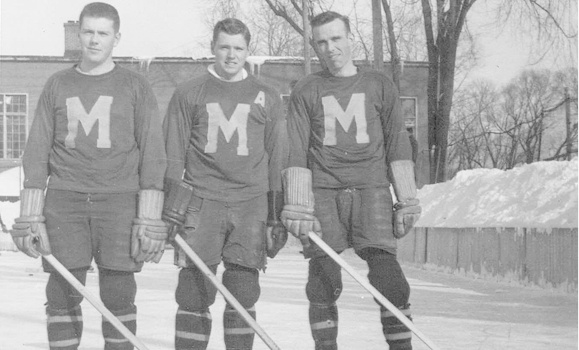 Its Scholarship banquet week on the Agricultural Campus.  As such, we are highlighting some of our generous donors and the impact they are having on our students. 
 "Although the 1949-50 hockey season at the A.C. was not outstanding from the viewpoint of championships won, it was a good year that will long be remembered by the boys of the team."
And 67 years later, the season summary written in the 1949-50 yearbook for the NSAC hockey team, still holds true.
Jack Johnson fondly remembers playing hockey, as part of the NSAC Rams, while earning his diploma. In fact, the ability to play for the Rams was why Jack chose to study at NSAC in the first place.
"I could have gone to a few other schools, but I had been playing in the same hockey league since I was 16, so I picked the AC. The AC had a team in the same league," recalls Jack.
Jack always has had a passion for sports and although he hasn't played in recent years, that hasn't changed. Through a new named scholarship, Jack has found a way to harness that passion again.
"I believe playing sports while attending university is a great way to learn the skills to succeed in life. This new fund will celebrate that."
This fall, a first-year, full-time student will be the first recipient of the Jack Johnson Agricultural Athletics Award.
"For the past number of years I have been involved on three committees that award high school students with scholarships," explains Jack. Although these awards are for different organizations Jack is associated with, his involvement with these awards got him thinking. "I've really been impressed with the applications and have noticed how attractive other universities are because of what they can offer to high school athletes."
Jack wanted to see more athletes encouraged to choose the Faculty of Agriculture for their education knowing they will be able to continue their athletic pursuits.
"The Rams have a strong Athletics program," says Jack. "Being able to entice more athletes can only improve their competitiveness."  
 "Athletics is pleased with the way alumni support our programs," says Judy Smith, Director of Athletic Services, Dalhousie Agricultural Campus. "We are thrilled Jack has put fourth this donation to not only attract a student with strong academics but also a sport background."
Once the student is selected, Jack looks forward to meeting the first Jack Johnson Agricultural Athletics Award recipient at the annual Scholarship Banquet, held at the Agricultural Campus in the fall. He hopes that their experiences at the AC will make as positive of an impact as it did for him.
While Jack believes playing sports develops critical life skills, he also refers to the relationship aspect. "Myself and two other teammates, Bob Hanes (Class of '49) and Norm Logan (Class of '50), carried-on to Macdonald College together where we also played hockey on the same team."
The trio stayed in touched over the years. They even returned to the Agricultural Campus for their 60th reunion, in 2010, and re-created a former hockey photo.
"Both Bob and Norm have now passed away," says Jack, "but I won't forget those times."
Thanks to Jack and his generous gift of the Jack Johnson Agricultural Athletics Award soon other students will have the same experience.