News
»
Go to news main
Aim to Grow Conference held on campus
Posted by
Stephanie Rogers
on September 28, 2017 in
News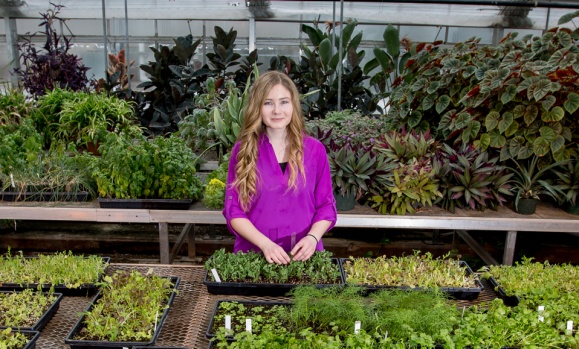 The Dalhousie University Faculty of Agriculture, the Government of the Netherlands and a group of Dutch agri-food companies, Greenhouse industries and organizations, are teaming up to explore the possibilities of supporting more local food production and related R&D using innovative Controlled Environment Agriculture in Atlantic Canada.
Controlled-environment agriculture (CEA) is a technology-based approach toward food production. The aim is to provide protection and maintain optimal growing conditions throughout the development of the crop. Production takes place within an enclosed growing structure such as a greenhouse or building.
The purpose of the AIM to Grow Initiative is to study the possibility to further develop innovative Controlled Environment Agriculture in Atlantic Canada, contributing to more year-round local food production, food quality and safety, food sovereignty and nutritional security.
"Dalhousie's Faculty of Agriculture aspires to become a hub of world-leading research and innovation that adds to the intellectual, social and economic capital of our communities," said Dr. David Gray, dean and campus principal.  "This collaboration is a prime example of academia embracing innovative new technology and expanding opportunities for our faculty and students.  We are proud to be part of it."
AIM to Grow -- an initiative of the Dutch Government and partner organizations – will be launched in collaboration with the Dalhousie University Faculty of Agriculture on Thursday, September 28, in Bible Hill, Nova Scotia.
The potential for improvements to the Canadian Agri-food sector by expanding production through modern greenhouses is attractive. Lengthening the growing season and providing new opportunities to produce more locally grown, year-round, pesticide-free food is the way forward.
Regionally-grown food can also benefit the economy with an import replacement benefit of at least $22 million, creating local jobs and decreasing the pollution of trucking fresh produce from distant markets.
The Dutch Agri-food greenhouse sector is world-renowned and a recognized global centre of expertise. The Dutch are pleased to collaborate with the Faculty of Agriculture as an ideal partner for the initiative for research and development, education and training and outreach.
"Thanks to Dalhousie's regional mandate, outstanding know-how and networks, long successful history and leadership in agricultural education and R&D and friendly and open offer to collaborate, we are pleased and honoured to have the Dalhousie Faculty of Agriculture as our lead partner to explore the topic of improved local food production using CEA," said Charlene Lambert, Coordinator Aim to Grow.
Many groups are searching for ways to ensure affordable, fresh, safe, nutritional and pesticide-free food for the region and innovative indoor growing technologies are believed to be an important answer to this problem.
Nearly 86 per cent of all fresh fruits and 39 per cent of vegetables consumed in Canada are imported. In 2015, imported fresh produce prices increased approximately 12 per cent due to the drop in the value of the Canadian dollar. Due to the high costs of imported produce, Atlantic Canada's 'end of the line' transportation and distribution challenges and costs pose an extra burden for ensuring fresh produce in the region.
"Controlled Environment Agriculture has significant potential to ensure food safety and to increase the yield and quality of pesticide-free fruits and vegetables," explained Dr. Raj Lada.  "This technology brings resilience in production year-round mitigating the challenges of climate change however significant research is needed to adapt these technologies to Atlantic Canada," he added.  "This initiative provides a significant opportunity for multi-disciplinary research and innovation, education, training and outreach. I am proud to be leading this initiative on behalf of the Faculty of Agriculture bringing our Dutch partners and the regional players together."
In addition to the Government of The Netherlands, a number of well-known Dutch companies are participating in AIM to Grow, including Priva, Metazet Formflex, Demonstration Greenhouse, VDH Greenhouses, as well as InHolland University and SIA: Taskforce for Applied Research, which is part of the Dutch Research Council.
For further information, please contact Dr. R. Lada, Professor and Department Chair, Department of Plant, Food, and Environmental Sciences, Faculty of Agriculture, Dalhousie University.  
*Statistics Canada