News
»
Go to news main
An experience of a lifetime
Posted by
Stephanie Rogers
on July 31, 2017 in
News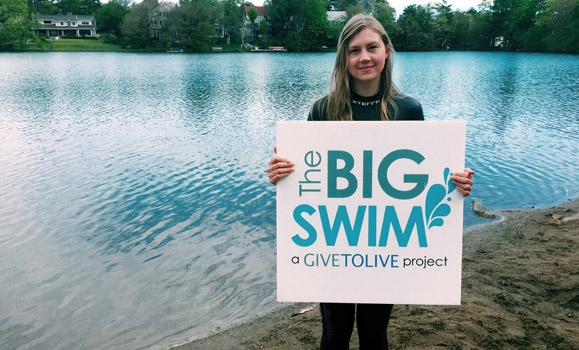 On Sunday, August 6, 47 swimmers will set off across the Northumberland Strait in what is sure to be one of the most exciting fundraising events of the year and an experience of a lifetime for participants. Amongst the swimmers will be Dal AC student Shannon O'Connor who has set her sights on swimming the Straight and raising money for a good cause.
"I signed up for the Big Swim because I wanted to make a difference in the lives of others and challenge myself physically to achieve the swim," Shannon explains.
The Big Swim is an annual summer event that raises money for the Brigadoon Children's Camp Society. Up to 50 swimmers can register for the event and pledge to fundraise to support the charity. The Brigadoon Children's Camp Society is a camp for children with a chronic illness, chronic condition or special need in Atlantic Canada. The camp supports children and their families and helps transform the way they view their lives. The cost of supporting the swim is completely covered by a registration fee paid by the participants, so all donations go toward sending a child to camp.
"I have had the opportunity to visit Camp Brigadoon and learn about the impact it has on the lives of children who attend," Shannon says. "The camp helps children to see that their illness does not define them and that, despite the challenges they face, they have the power to rise above them and live the life they desire."
Shannon's trek across the Northumberland Strait will be at least 14 kilometers, possibly more depending on the water currents on the day of the swim. Shannon has been following a strict schedule to prepare for the swim. She swims 10 kilometers each week, in the mornings or after work, and is gradually building up to swimming the full distance.
"My longest swim so far is 10 kilometers in a pool," Shannon says. "This is a little over three hours of swimming."
While building her stamina for the long distance swim is important, Shannon has had to prepare for the swim in other ways as well. It is important for swimmers to get used to swimming in the open water and not being able to see the bottom. Practicing swimming straight and following a kayaker are also important components to a successful swim. She's been learning to eat in the water to keep her energy up and has had to purchase special equipment, such as a wetsuit, wetsuit socks, an open water swimming watch to track distances, and a bright pink buoy that attaches to her so she can be seen by boats.
"I've been doing lots of open water training," Shannon says. "Open water training is crucial in preparing for the swim. I've had to get used to staring down into darkness beneath me and trying to swim in a straight line when I can't see anything. I also need special cream to protect my skin from chafing from the wetsuit and I will have to take ginger Gravol before the swim to avoid any seasickness during the swim."
Although it's her first time participating in the Big Swim, Shannon is no stranger to the water. Growing up, she always swam recreationally and has worked with the Nova Scotia Lifeguard Service at Heather Beach for the past two years. She has also trained and competed in lifesaving competitions where she would compete against other lifeguards in ocean swimming, paddling, running and rescues.
"Going to different beaches and getting out in the surf helped me to feel more comfortable in rough water and learn how to swim through big waves," Shannon says. "Those situations exposed me to how vulnerable you can feel in the ocean and taught me to be focused, not fearful- something that will help me complete the Big Swim."
A second year student at Dal AC from Valley, NS, Shannon is studying civil engineering and is actively involved with numerous volunteer groups. In addition to her volunteer work on campus and in her community, Shannon's true passion lies with the environment. It is her hope that someday she will be able to contribute to environmental sustainability using her engineering degree.
"My main goal with taking engineering is to do work that will benefit the environment," Shannon says. "I am very passionate about making a difference with regards to the environment. In my first year, I established an Environmental Club and worked on getting students who are also keen on making a difference together to brain storm initiatives we could pursue to make an impact."
As Shannon prepares mentally and physically for the Big Swim, she has also been collecting donations to go toward the Brigadoon Children's Camp Society. She has pledged to raise $1,500, all of which will go directly to the Brigadoon Children's Camp Society. For Shannon, raising money for such a good cause is almost as exciting as the swim itself. Either way, Shannon is prepared for an experience of a lifetime.
To support Shannon's journey and donate to Brigadoon Children's Camp Society, please follow this link.