News
»
Go to news main
Meet the Aggies in your Neighbourhood
Posted by
Stephanie Rogers
on July 26, 2017 in
News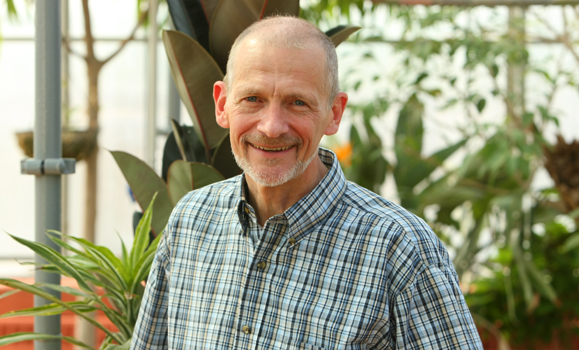 Name: Dr. A. Randall Olson (also known as Dr. "O")
Job Title/Position: Professor of Biology
Number of Years on Campus: 33 years (an ancient paleo-prof.)
What do you love about the AC community? I love that our class sizes provide an opportunity for faculty and students to get to know each other as real people in an academic setting that is both respectful and genuinely caring. Students are not just a number on a class list, but a real human person.
Favourite Campus Hotspot: My personal favourite "hotspot" is the glasshouse attached to the Collins Horticulture Building where my office is, but I certainly look forward to the opening and general access of our new "student centre" located in the upper floor of the MacRae Library!!!
What information should first year students know about BIOA 1002?  I do not assign "busy work" associated with the lecture material. Sixty-five percent of the course mark is based on what students earn on two term tests and the final exam. This means that students have the responsibility to find a way to keep up with the assigned readings and lecture content on their own.
Any advice for new students? One of the most challenging parts of making the transition to university is learning to manage your time! We have resources available to helps students acquire the skills to get the most out of their university experience…take advantage of them!!!!!!
What does being an aggie mean to you? I have always been proud of my association with agriculture as a discipline of human endeavour that forms the very foundation for human culture to flourish.
Anything to add? Outside of their families, both the professional and personal relationships forged by students on our campus will be among the most important of their lives.