News
»
Go to news main
Meet the Aggies in your Neighbourhood
Posted by
Stephanie Rogers
on July 19, 2017 in
News
To help celebrate and welcome new students to campus, we are profiling some of our faculty, staff and students that you may meet in your travals on on your new path at the Faculty of Agriculture.
Chef Victor MacKinnon and Food Service Director Julie Fowler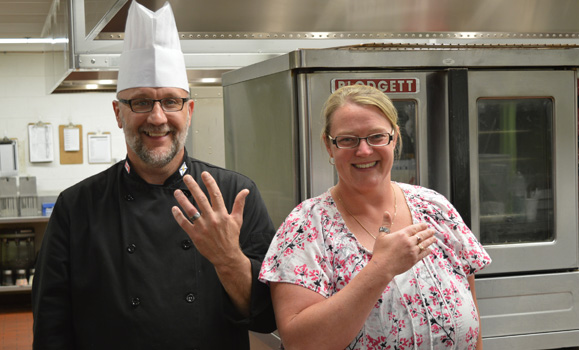 Job Title/ Position:
Julie Fowler – Food Service Director
Chef Victor MacKinnon – Chef Manager
Number of years on campus:
Julie – 23 years (away for short periods in between)
Chef Victor – 45 years
What do you love about the AC Community?
Our favorite thing is our students!  Without them we wouldn't be here.
Favourite campus hotspot:
Of course, Jenkins Hall because we like everyone with us J
What information should first year students know about Jenkins Hall?
In Jenkins Hall we like to create a  "Home Away from Home" atmosphere.  Our associates love getting to know the students by name and serving them day after day.  We have a very much open door policy in which we want students to always free feel to come to us with any questions or comments so that we can be always working towards making their dining experience a great one!  Jenkins Hall provides all-inclusive service morning until evening.  Dining plans are loaded onto your student ID card, so it's just tap and dine.  We offer a wide variety of meals including dietary needs as required.  Our Chef is happy to work with you in creating a menu that meets your personal dietary or allergy requirements.
We are extremely excited this year to bring a new program to our dining services called "my pantry".  In this area you will find our Chef sharing cooking techniques, recipes, and more.  On a daily basis it is an area where a student can go in any time of day to make a smoothie, stir fry, waffle, omelet and much more.  
Can you provide us with more information about meal plans?
We have many meal plans available to all students whether you live on campus or not.  Our best value is the 7 day all-inclusive unlimited plan.  For your convenience we also offer many 75, 50 and 25 meal and lunch plans that can be used anytime throughout the year.  Casual dining meals by paying at the door can be purchased anytime.
Any advice for new students?
Never go hungry!  Our doors are always open and we want to always hear any feedback you have to share with us.  
What does being an aggie mean to you?
Aggies have amazing spirit on campus.  The campus community is alive and fun because of the great positive energy Aggies bring!  We love it!