News
»
Go to news main
Maxwell set to join Rams
Posted by
Stephanie Rogers
on June 29, 2017 in
News
Shanice Maxwell has tasted success nearly everywhere she's gone on a soccer pitch.
Now the 24-year-old Truro resident wants to add to her playing resume as she takes to the field for the Dalhousie AC Rams this Fall in what is likely to be her final kick at the can in competitive soccer.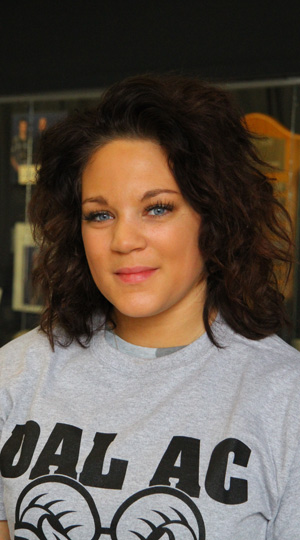 "I'm so excited," Maxwell, now a hairdresser at Victoria Court Hair Salon, said. "I think it's going to be awesome to play at home and I just want to finish things off with a bang and make this team proud."
The striker already has an impressive list of accomplishments to her credit. She is a former member of Canada's national under-18 program, won an Atlantic University Sport (AUS) championship with the Cape Breton Capers in 2013, was an AUS All-Star in 2012 and helped Suburban FC to a provincial senior women's club title in 2012 and led the Cobequid Cougars to a provincial high school final in 2010.
Rams coach Jackie Ryan is looking forward to helping her newest player add to those credentials and hopes Maxwell could be the piece that helps the Rams solve the puzzle of success. The Rams haven't  won an Atlantic Collegiate Athletic Association (ACAA) title since 2006.
"Shanice's talent, coupled with her playing experience, is exciting news for the program," Ryan said. "She should be very exciting to watch."
Maxwell will be attending the Bible Hill campus for a semester while studying marketing, leadership and taking arts classes to upgrade her academic credentials for career and workplace potential.
Although Maxwell graduated from Cape Breton University with a Recreation Leadership degree two years ago, she wanted to continue to expand her studies. She talked with Ryan about the prospect of attending Dalhousie AC and joining the Rams while the pair played together for the North Nova United senior women's side last summer.
"Once Jackie came to me and said we could make it work I just said 'Yeah, definitely. Let's do it.'"
Maxwell will give the Rams a healthy injection of intensity and her experience should make her a leader on the squad. Her strength and speed make her difficult to take off the ball and Maxwell has a nose for the net, nabbing a Golden Boot award for leading the Nova Scotia Soccer League's senior women's division with nine goals as a member of Suburban in 2012.
The Rams have steadily improved since Ryan took over the reins in 2012 going from the basement of the seven-team conference to finishing fifth last year and missing the conference playoffs by just one point. The team's improvement saw Ryan nab the conference coach of the year award.
Maxwell, who expects to be used as a striker or attacking midfielder for the Rams, said she wants to help the program continue it's upward swing.
"They have definitely improved from where they were and I think this is the year we can definitely do something," she said. "The girls definitely have potential and I think with a little boost of confidence things can definitely happen."
On paper it certainly looks that way. The Rams should terrify opposing defences as Maxwell's pace, power and clinical finishing ability joins up with third-year striker Sian Rankin's talents. The Edmonton, AB., native was a CCAA All-Canadian and the team's MVP last year after pumping in 17 of Dalhousie's 23 goals to lead the ACAA. She also topped the conference with 34 points to earn herself a spot on the ACAA All-Conference team.
"The combination of a CCAA All-Canadian and a former AUS All-Star with national team experience could make for a pretty dangerous combination," Ryan said.
Maxwell said she plans on bringing her competitive playing days to an end at the conclusion of the season, although she will still continue to lace up her boots with North Nova. She also hopes to take on a coaching role somewhere.
"I want to finish things off with a bang," Maxwell said. "This could be my last chance so it's exciting."