News
»
Go to news main
Amazing AgZone Race a big success
Posted by
Stephanie Rogers
on June 19, 2017 in
News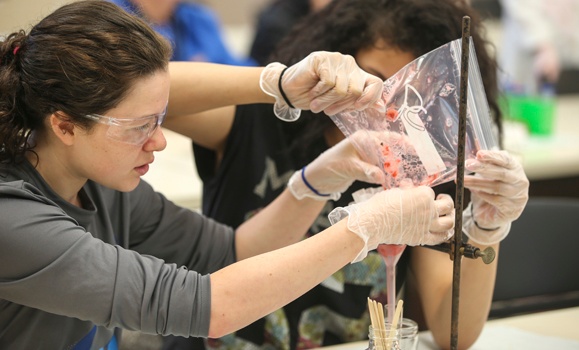 From June 6-8th, the Dalhousie Agricultural Campus welcomed just under 500 grade eight students from six Colchester, Cumberland and Pictou County schools for the annual Amazing AgZone Race.

AgZone is an annual event co-hosted by the Faculty of Agriculture and the Nova Scotia Department of Agriculture. This year marked the tenth consecutive year in its current format, designed to meet provincial grade eight curriculum outcomes.

"Our goal is certainly to provide educational material that links to curriculum outcomes in many different subjects," says Colette Wyllie, Community Education Manager. "But we're also trying to get students thinking about agriculture in ways they may not have before. For many participants, this is their first experience on campus and perhaps their first exposure to agriculture. They are often surprised to learn about the opportunities it can provide to them."

The event is modeled after the Amazing Race, with a series of sessions hosted around campus. Stations for 2017 were strawberry DNA extraction hosted by the Department of Plant, Food, and Environmental Sciences, a food and nutrition marketing clicker session hosted by the Department of Business & Social Sciences, an egg drop experiment hosted by the Department of Engineering, idea generation hosted by Cultiv8, a fish farming session hosted by the Department of Animal Science & Aquaculture, dairy, poultry and sheep sessions hosted by the farm, and an NS marshlands session hosted by the Department of Agriculture.

"I believe AgZone offers so much beyond what the classroom is able to cover and should be a mandatory field trip for all grade eight science students," says Kenneth Chisholm, a participating teacher from Central Colchester Junior High School in Onslow. "Some students have never had the opportunity to visit the Agricultural Campus before. It really opens their eyes to the diversity of the programs being offered."
Colchester County schools participating in this year's program were Central Colchester Junior High in Onslow and École acadienne de Truro. Thorburn Consolidated, W.A. MacLeod Consolidated and East Pictou Middle Schools all attended from Pictou County. Traveling the farthest was Parrsboro Regional High School.

In 2016, a survey revealed attendance at AgZone marked the first visit to the Agricultural Campus for 68 per cent of these grade eight students.
Thank you to everyone involved for helping to make AgZone another great success for 2017!