News
»
Go to news main
Woodsmen competition features action, drama
Posted by
Stephanie Rogers
on February 2, 2015 in
News
It's always been said the only things certain in life are death and taxes.
You can add 'being entertained at the 30th annual Rick Russell Woodsmen Competition' to the list.
With 14 events on the schedule Feb. 7 at McMillan Show Centre, there's bound to be something that appeals to everyone. Action gets underway at 8 a.m. and runs until 5 p.m. Admission is $5 and children under 12 are free.

"It's definitely something anybody can come out to," Brad Elliott, captain of the Dalhousie Woodsmen Men's A team and the event's co-chair, said. "I doubt you would find anyone that wouldn't enjoy at least something about it. There's lots of action."

There's also a pinch of drama.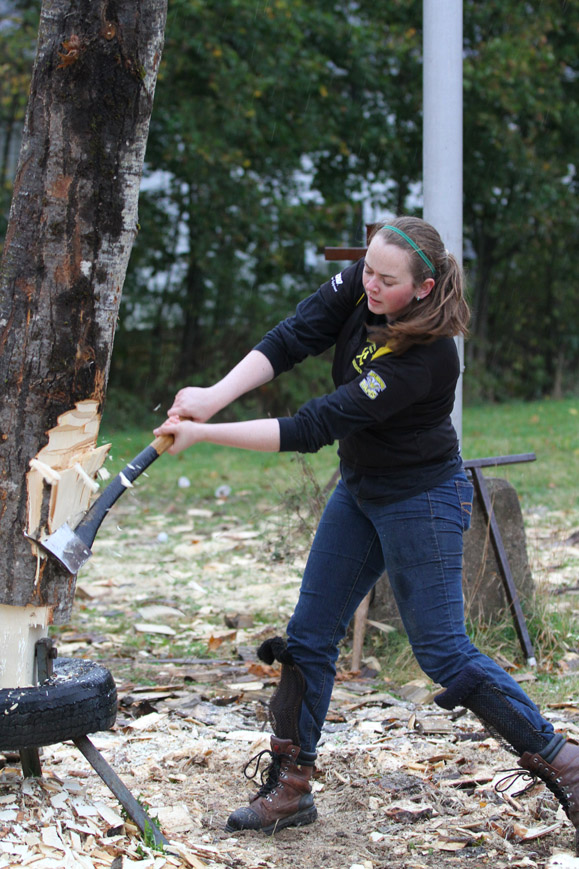 Kayla Graham practicing her chopping event
Both the Woodsmen Men's A and Women's A teams enter the competition locked in a struggle for Canadian Intercollegiate Lumberjacking Association (CILA) championships. The men sit second in overall points, trailing the defending champion New Brunswick Varsity Reds while the women, also slotted second, are chasing Sir Sandford Fleming, which is also defending a CILA crown. Other competing schools include Algonquin College, McGill University's Macdonald Campus and the Maritime College of Forest Technology.

The Rick Russell Competition is the last of four events on the CILA calendar meaning Dalhousie has the chance to pull off some home-turf heroics. Should they be successful, the men would reclaim a trophy which was theirs in 2012 and 2013, while the women would have a fourth crown in five years after a run of three in a row from 2011-2013.

"We want to win it pretty bad," Breagh Ross, the Women's A captain who is also a co-chair, said. "That's our trophy and we want to bring it home."

The lineup includes both individual and team events such as the axe throw, water boil, pole climbing and chopping and sawing competitions. The Rick Russell event is also the only one on the CILA schedule to include log burling.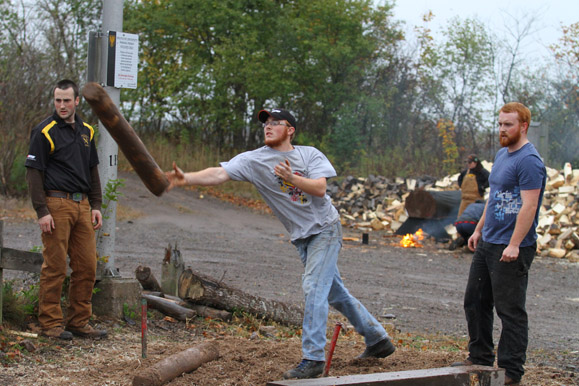 Tyler Van Oirschot, Murray Clements and Brad Elliott working on their pulp throw event in practice session.
It is traditionally a well-attended event, turning the dirt-floored arena into a lively place with more than 500 cheering fans.

"It's kind of like a gold-medal game at the Olympics," Ross, a 22-year-old who competes in the axe throw and vertical chop, said. "It's full and everyone is cheering. It makes it a good day."

The Woodsmen are hoping to use that atmosphere to their advantage.

"It definitely helps to have the whole school behind us, cheering us on the whole day and having our friends and family and everyone there," Ross, a Kentville native studying Environmental Science, said.

"Not having to take a 12-hour bus ride the day before is nice too," Elliott added with a laugh. "But you can hear when they really want you to win and you know it's your crowd."

There is no shortage of motivation for the Woodsmen to win their titles back. Both athletes admitted it was a devastating feeling to not keep their championship streaks alive, especially in what were both tight battles which were decided at last year's Rick Russell. But it has added fire this season for both squads and reclaiming their respective crowns has been on their minds since tryouts began back in September.

"Wanting that trophy helps us train harder every night and on competition day we are really in the zone," Ross said.

That will be important as thoughts of the hometown crowd and title aspirations creep into the athletes' minds. Staying focused and learning to brush off setbacks will be crucial.

"The biggest thing is to not disqualify in any events," Ross said. "That's what really hurt our team last year. Having that happen really knocks you down in points. As long as you place you're going to do well."