Tamil Nadu Agricultural University and Annamalai University
Dual Degrees with a World of Opportunity
Agriculture and Horticulture students at both TNAU and Annamalai University have the opportunity to apply to Dalhousie University's Bachelor of Technology in Environmental Landscape Horticulture. After completing three years at their home universities students apply to Dalhousie and take 3 semesters (fall, winter, fall) at the Dalhousie Agricultural Campus (Dal-AC) in Truro.
Students take courses that prepare them with the skills and knowledge related to landscape horticulture. Upon completion, students graduate from Dalhousie with a B. Tech (ELH) and a degree from their home university in India.
Three classes of students from India have graduated in this dual degree program and the fourth batch will be graduating December 2013. Some graduates have returned to India for work or higher studies. Some graduates have stayed in Canada for employment. Several graduates have enrolled in Master of Science programs at a number of universities (Dalhousie, University of Manitoba, and the University of Saskatchewan).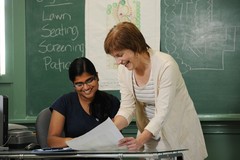 Students benefit from one-on-one instruction from experienced landscape instructors.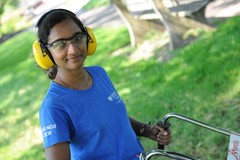 Betty Johnson practicing safe use of landscape equipment during her summer job on campus.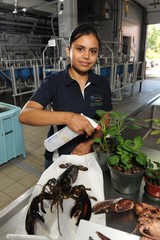 Gayathri Ilangumaran a student from TNAU who completed the dual degree program is currently pursuing M.Sc. at Dalhousie. Her research is on the potential use of microbial fermented lobster shells in plant disease management.
Scientific Collaboration:
Dr. B. Prithiviraj and his TNAU collaborator, Dr.T.Rathakrishnan, were recipients of a Collaborative Research Projects from the Canada-Indo Shastri Institute.  This research project will focuses on the factors that influence farmers to adopts precision agriculture technologies.. As part of this collaborative research, Dr Prithiviraj will jointly supervise one doctoral student who is located at TNAU.
Recognition and Honours: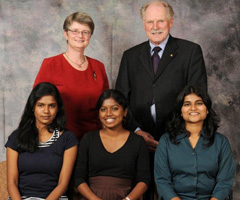 The 3 students from TNAU enrolled in the Bachelor of Technology in Environmental Landscape Horticulture program in September 2012 received entrance scholarships based on their academic standing at the time entry into the program, Here they are shown at the Faculty's Scholarship Banquet being congratulated by Dr Nancy Pitts, Assistant Dean, Internationalization, and Dr Harold Cook, Dean, Faculty of Agriculture.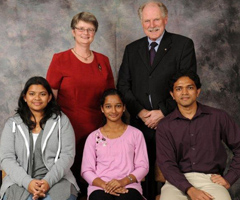 At the 2013 Scholarship Banquet three students from AU were honored for their academic achievements. Congratulating them are Dr Cook, Dean of the Faculty of Agriculture and Nancy Pitts, Assistant Dean, International
Dr. Prithiviraj presented the E. Thiruvarasan Endowment Lecture at Annamalai University in 2012. 
Dr Nancy Pitts was invited to speak at the National Science Day Celebration at Annamalai Unversity. The theme for 2013 was Food Biotechnology.