Sam Bourgeois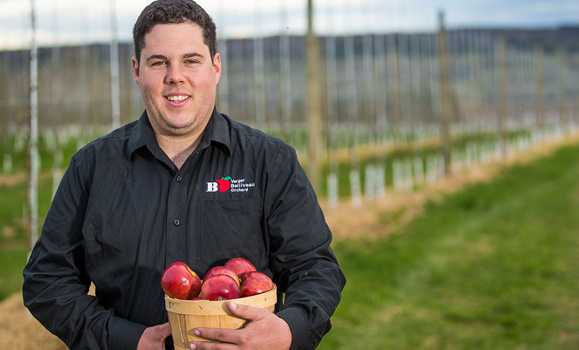 Young Alumni Achievement Award 2017
Sam Bourgeois (Class of '11)
A third generation farmer, Sam successfully fills the role of operations manager at his family operation, Belliveau Orchard, located in Memramcook, NB. One of Atlantic Canada's premier growers and suppliers of apples, Belliveau Orchards has been in the same family for over 80 years, the orchards now comprise over 70 000 apples trees. Working alongside his grandfather and father (both AC alumni) and other family members, Sam oversees all aspects of the company, including the managing of 45 year-round employees, close to 100 employees during harvest, making sure operations run smoothly.
During harvest season, Belliveau Orchard serves close to 9000 guests, each weekend, at their café. They sell farm-grown vegetables at their farm store, operate a u-pick and corn maze and produce sweet cider, hard cider and award-winning wine.

Traditionally a citation would be read for Sam. However, Ag More Than Ever recently featured Sam as part of their "Agvocate" campaign. It's such a great video, we thought we would share that tonight instead.
https://www.agriculturemorethanever.ca/from-the-team/agvocate-profile-sam-bourgeois/#.WejYmTv_qUk
As a successful young alumnus who is truly passionate about agriculture and has a bright future, it is most fitting that Sam Bourgeois be named the 2017 recipient of the Dalhousie Agricultural Campus' Young Alumni Achievement award.