Niki Jabbour
Distinguished alumnae 2021
Niki Jabbour (Class of '96)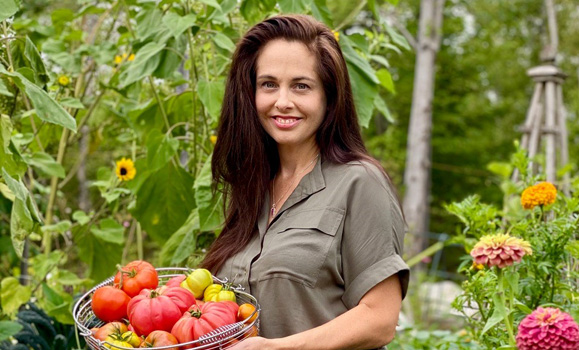 Since 1990 the Agricultural Campus has been annually honouring a graduate with the Distinguished Alumni award. During this 20-year history, our most prestigious award has never been presented to a female. Until now.
Award winning author, radio host, social media influencer and in-demand speaker, Niki Jabbour (Class of '96) is the 2021 Distinguished Alumnae for the Faculty of Agriculture. Niki has guided many levels of gardeners across North America, to successfully grow in small spaces and through four seasons.
Niki was raised in Halifax, NS and was fortunate enough to grow-up with a vegetable garden. The garden wasn't big, nor was it all that productive, but she quickly started to appreciate the taste of home-grown goodness. By the time she was a teenager, planting and caring for the garden became one of Niki's favorite summer tasks.  
Niki followed her passion and attended NSAC, graduating in 1996. Since then, she has been harvesting, year-round, from her Halifax home garden. And Niki is growing more than your typical potatoes and carrots in her raised beds. Her garden is filled with an eclectic mixture of popular vegetables likes tomatoes, cucumbers, many varieties of beans, as well as beautiful flowers and unique heirloom varieties and crops from all around the world.  
She has published four books, most recently Growing under cover, which teaches backyard gardeners, of all crop sizes and skill levels, just how to insure crops for success. She writes for magazines and newspapers across North America, attends countless speaking engagements, and since 2006 has been hosting and producing her popular radio show, The Weekend Gardner. Niki has received multiple awards for her work and has established quite a social presence.
It is most fitting that the Faculty of Agriculture name Niki Jabbour as the first female Distinguished Alumnae.