Ken and Teresa Mellish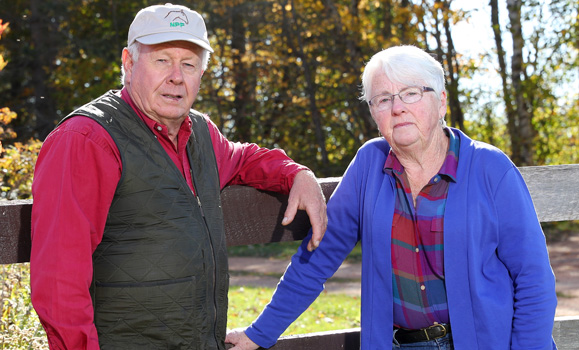 Alumni Volunteer of the Year 2017
Ken (Class of '65) & Teresa (Class of '66) Mellish
Hard work, sense of community and a natural instinct to help each other is what it means to be an Aggie. With that in mind, it's quite clear that our 2017 Volunteer of the Year award recipients are true Aggies.
It takes a farmer to know just how to help another farmer. When a hurricane destroyed the banana crops in Dominica, directly impacting farmers, Ken and Teresa Mellish knew just how to help. Together, with their Prince Edward Island community, they raised funds to help the farmers re-plant their crops. Follow-up conversations began and Ken and Teresa realized they could do more. As a result, Farmers Helping Farmers was formed, 37 years ago.
Nearly every year since, Teresa has travelled to East Africa with a group of volunteers to help residents in Kenya and Tanzania. Ken has also participated on many trips. During each trip, they spend several weeks in the local villages sharing their knowledge and skills.
Along with the other volunteers, Ken and Teresa work with women's groups, schools and dairies. They led the construction of school cookhouses and school gardens, so children can have a proper nutritious lunch while receiving an education. Of particular interest to Teresa is the projects related to the supply of water to women who have no water. The installation of water tanks to harvest and store rain water has transformed the lives of many women and their families. Ken's area of interest is with the development of dairies, helping to improve milk production. He also conducts seminars on forage production, harvesting and livestock feeding.
Yet there's more to the work than what happens during Ken and Teresa's travels. The special projects they execute while in East Africa wouldn't be possible if it wasn't for fundraising efforts at home in PEI. One particular project is Farmers Helping Farmers Holiday Campaign. In 2016 this special fundraiser raised $50,000 for Farmers Helping Farmers projects.
Over the years, Farmers Helping Farmers has carried out hundreds of development projects in East Africa. The dollar value of those projects since 1980 exceeds $10 million Canadian, including funds contributed by the Canadian International Development Agency (CIDA). These projects are estimated to have touched the lives of at least 100,000 people in East Africa.
If Farmers Helping Farmers had a CEO, it would be Teresa. However, as founding member she holds the title of treasurer and volunteer coordinator. Teresa is actively involved with the management, administration and financial control of Farmers Helping Farmers international projects. Teresa has been dedicating at least 20 hours per week, in a volunteer capacity, to Farmers Helping Farmers, since its inception. Ken is devoted to the organization as chairman of the project committee.
For Ken and Teresa, their work with Farmers Helping Farmers is a way of combining their two passions - a desire to help others and a strong thirst for adventure.  
The skills Ken and Teresa share with their East African friends are a combination of their life experiences and training. Both Ken and Teresa were raised on farms. After attending NSAC in the 60s they both continued their education at McDonald College, finishing their undergraduate degrees. Ken earned his M. Sc. at McGill University, where Teresa earned hers at Guelph.
Ken and Teresa have both spent their careers working in agriculture. It's also how they live their lives. In 1980 they purchased a piece of land, which they named New Perth Farms and established the property as a dairy farm producing forages, grains and breeding stock. The farm achieved high levels of production using home grown forages. In 2002, Ken and Teresa sold their quota and re-purposed their farm. Today, New Perth Farms is a well-respected sport horse breeding farm using European breeding stock.
Over the years, New Perth Farms has served as an exceptional place for Ken and Teresa to raise their two children. Today, it's also a wonderful place for their three grandchildren to visit and learn about agriculture first-hand.
As a result of their tireless and continuous devotion to their community and beyond, Ken and Teresa Mellish are very deserving recipients of the Faculty of Agriculture's Alumni Volunteer of the Year Award for 2017.